After a few nights in Copenhagen, it was time for the last segment back to the United States, in Scandinavian Airlines Airbus A350-900 business class to Miami. In this episode, I wanted to review the SAS ground experience at CPH, including the carrier's hub lounge.
SAS registration in Copenhagen
We arrived at Copenhagen airport around 5:30am for our 9:35am flight to Miami (we arrived very early so we could get our coronavirus tests – luckily it was a breeze).
Check-in was quite busy, although there was a priority line for check-in. Unfortunately, the check-in process was still not a breeze, as Scandinavian Airlines attempted to wrongfully deny my friend boarding, as I explained in another post. Fortunately, this situation was finally resolved, as a "one-time exception".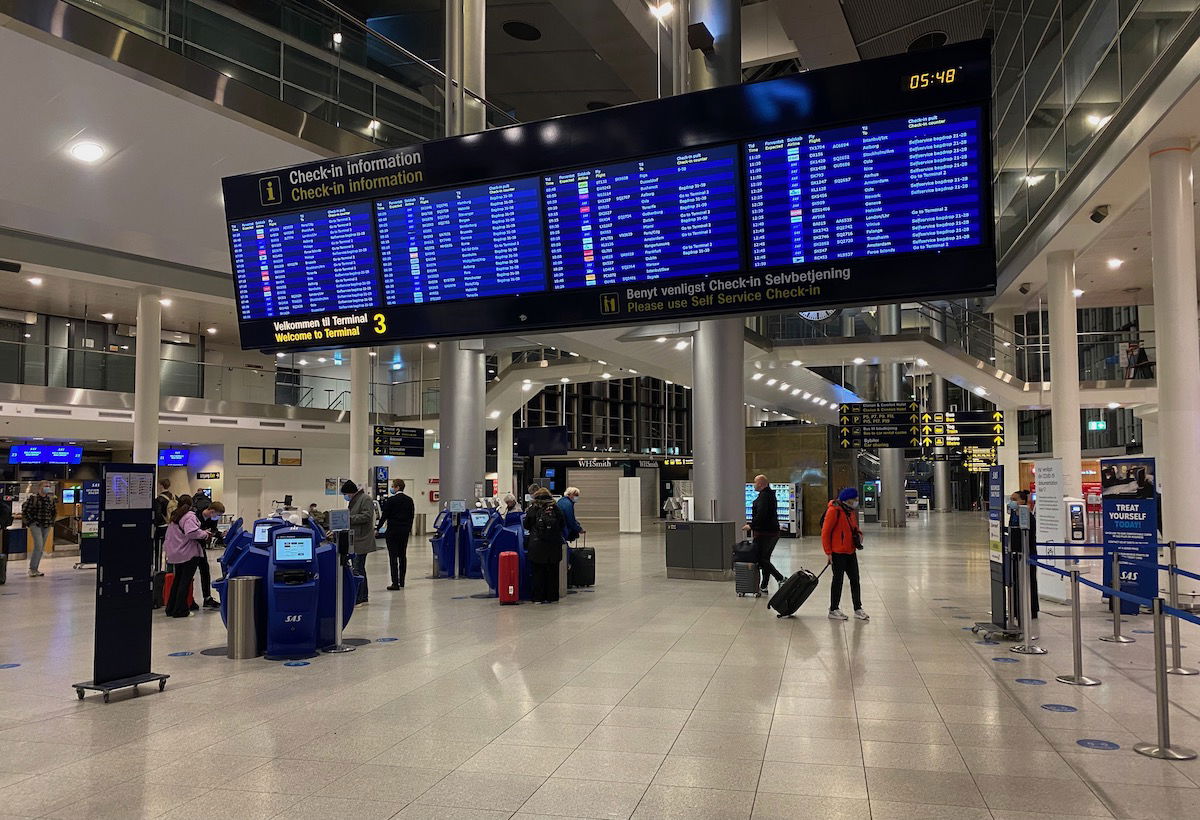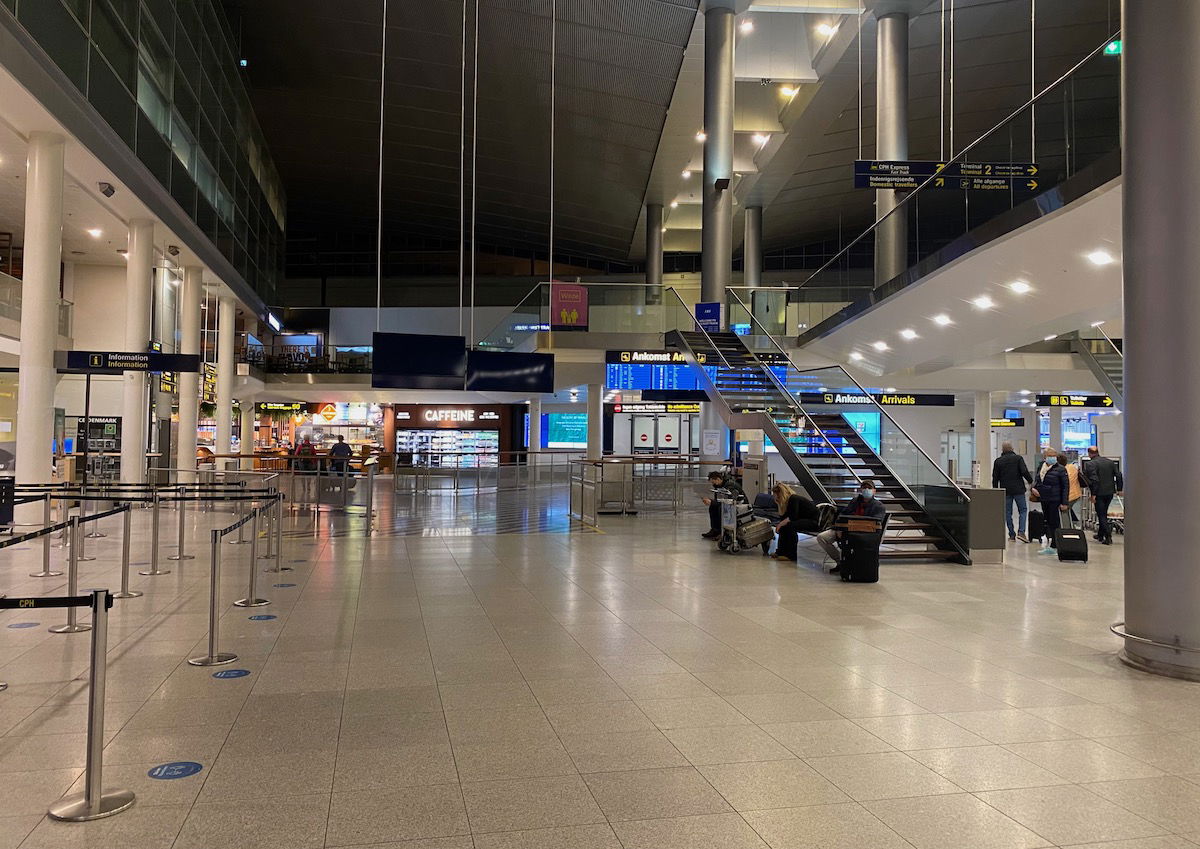 With boarding passes in hand, we head for security. I was under the impression that SAS had a dedicated expedited channel, although I couldn't find it initially. When I finally got to the security checkpoint, I asked one of the staff where the fast queue was, and she said I was there (which it wasn't , in fact). Security took over 20 minutes to clear and then I had to walk through the typical duty free maze.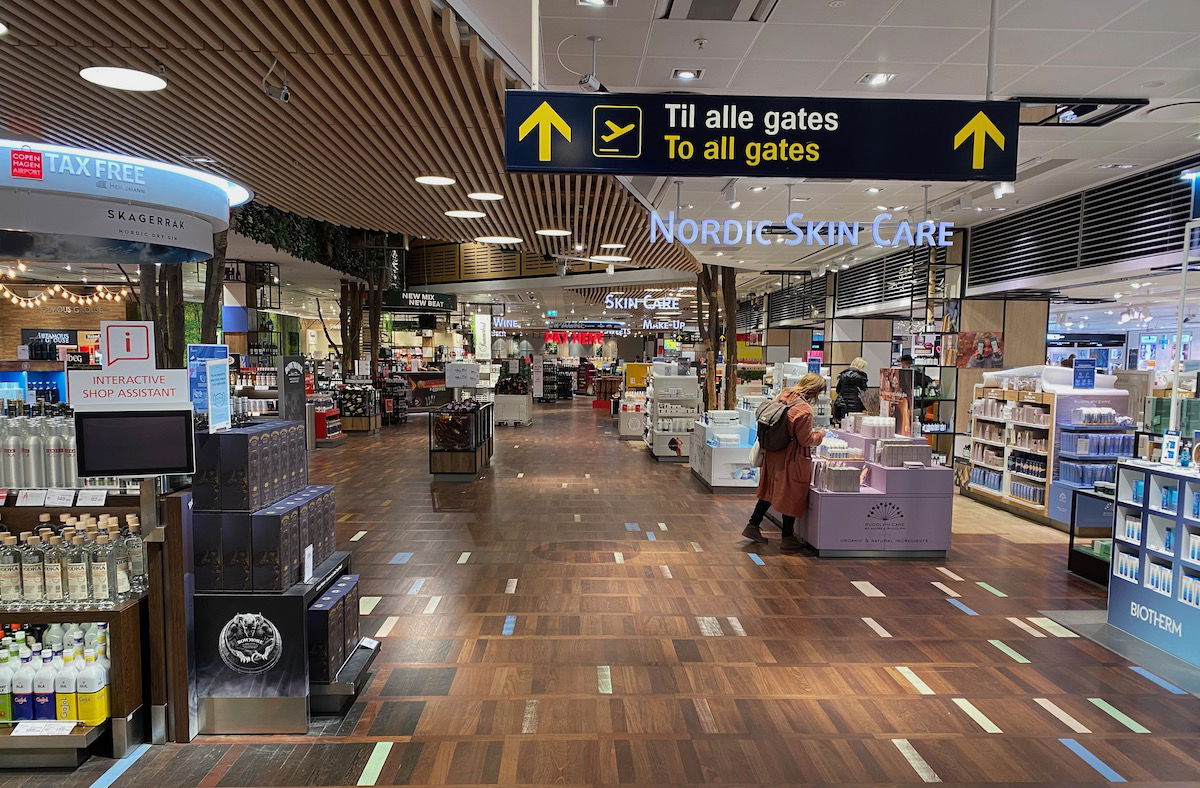 There's definitely a proper fast lane that's open, and it also lets pass right by the lounge. So be sure to use it if you are leaving from the airport.
Location of SAS Lounge in Copenhagen
SAS Lounge Copenhagen is located in Terminal 3, near gate C10. If you are coming from the standard security checkpoint, just turn left and it may be a five minute walk. If you are coming through the fast track security lane, just turn left and you will immediately see the lounge there.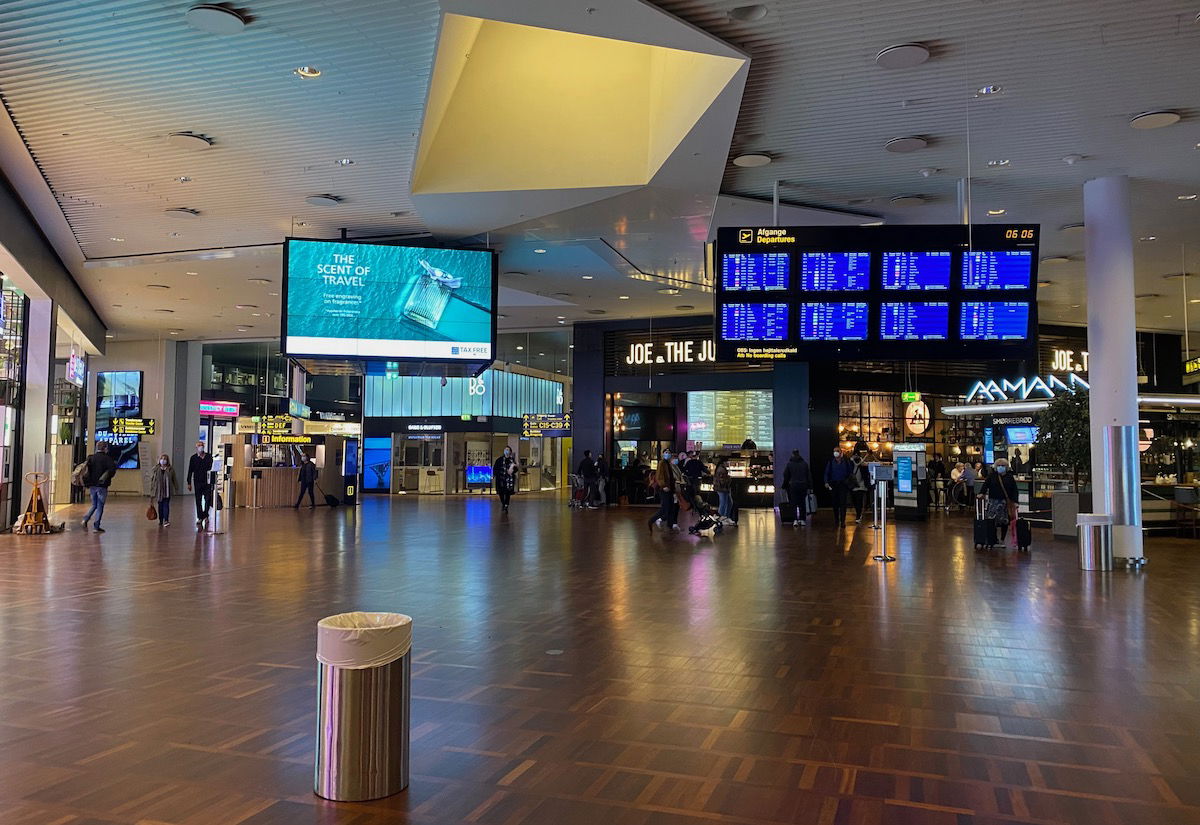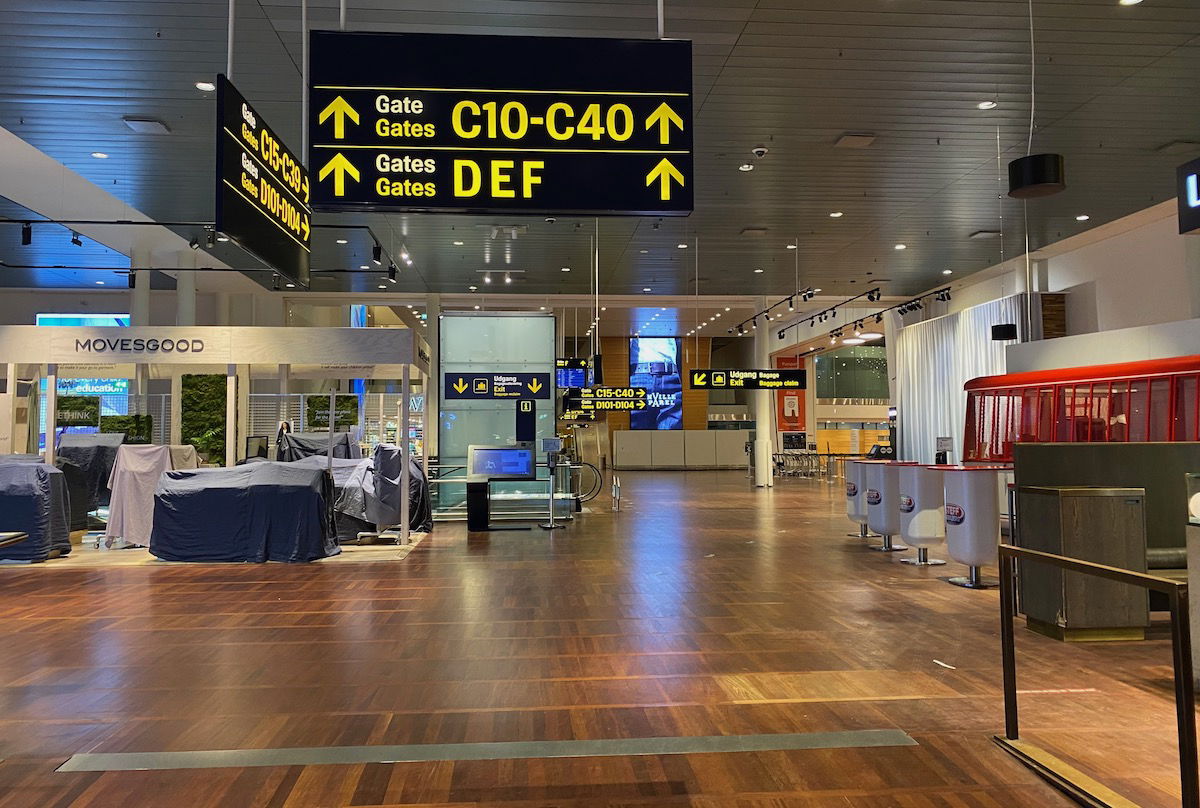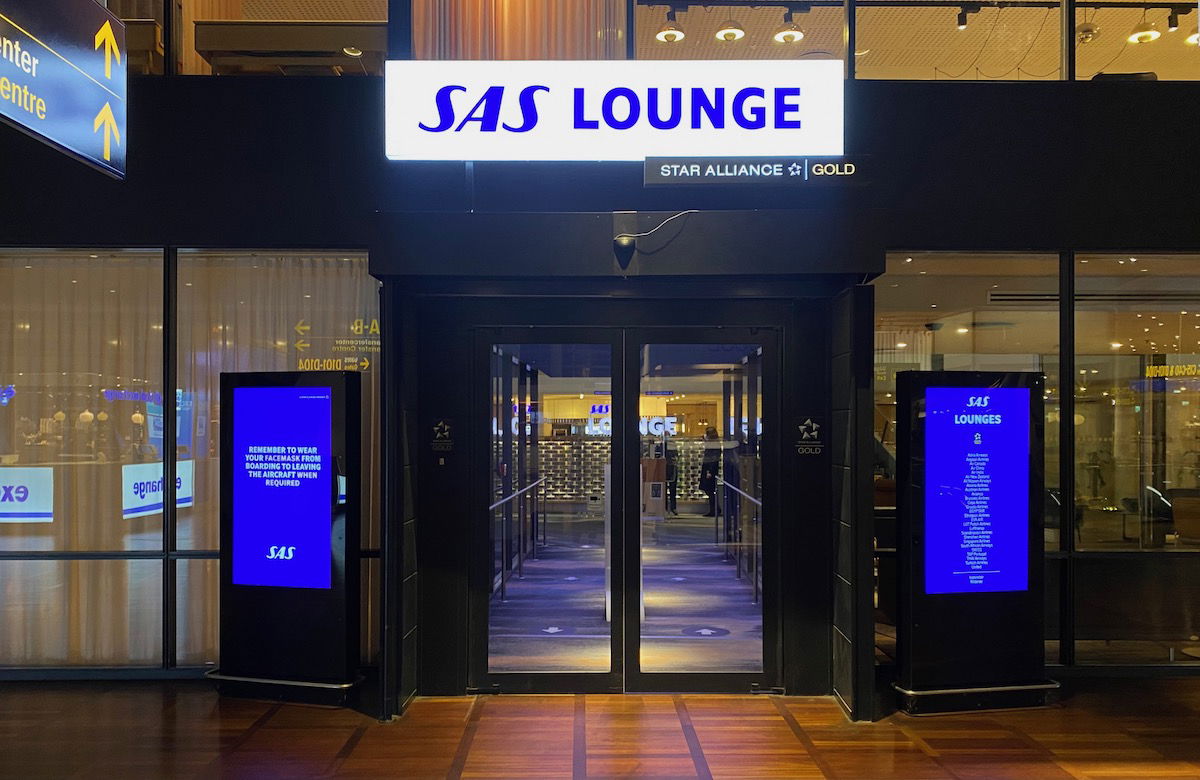 Note that the lounge is located in the Schengen part of the terminal. In other words, if you're taking a non-Schengen flight (to the UK or most long-haul destinations) you'll still need to go through passport control, so be sure to allow time for this.
SAS Lounge Copenhagen opening hours and entry requirements
The SAS Lounge Copenhagen does not have consistent hours, but instead states that the lounge opens approximately one hour before the first morning flight and closes approximately 30 minutes before the last evening flight.
Regarding entry requirements, the SAS Lounge can be accessed by:
SAS Business Class passengers, SAS Plus passengers (this is the name of SAS's intra-European premium cabin) and all Star Alliance Business Class passengers
Star Alliance Gold passengers traveling on any Star Alliance flight
Those who buy access – you can buy access online for 199 DKK (~$29) or at the lounge reception for 249 DKK (~$37)
The SAS Lounge has automated entry gates, so all you have to do is scan your boarding pass and then be admitted – no human contact required.
SAS Lounge Copenhagen seating and layout
The SAS Lounge Copenhagen measures approximately 32,000 square feet and is supposed to be made up of two distinct areas – the upper level is supposed to be a lounge for Star Alliance Gold members, while the lower level is supposed to be a lounge for all other passengers. . Unfortunately, at the moment the first floor of the lounge has been closed, so all guests are directed to the upper level.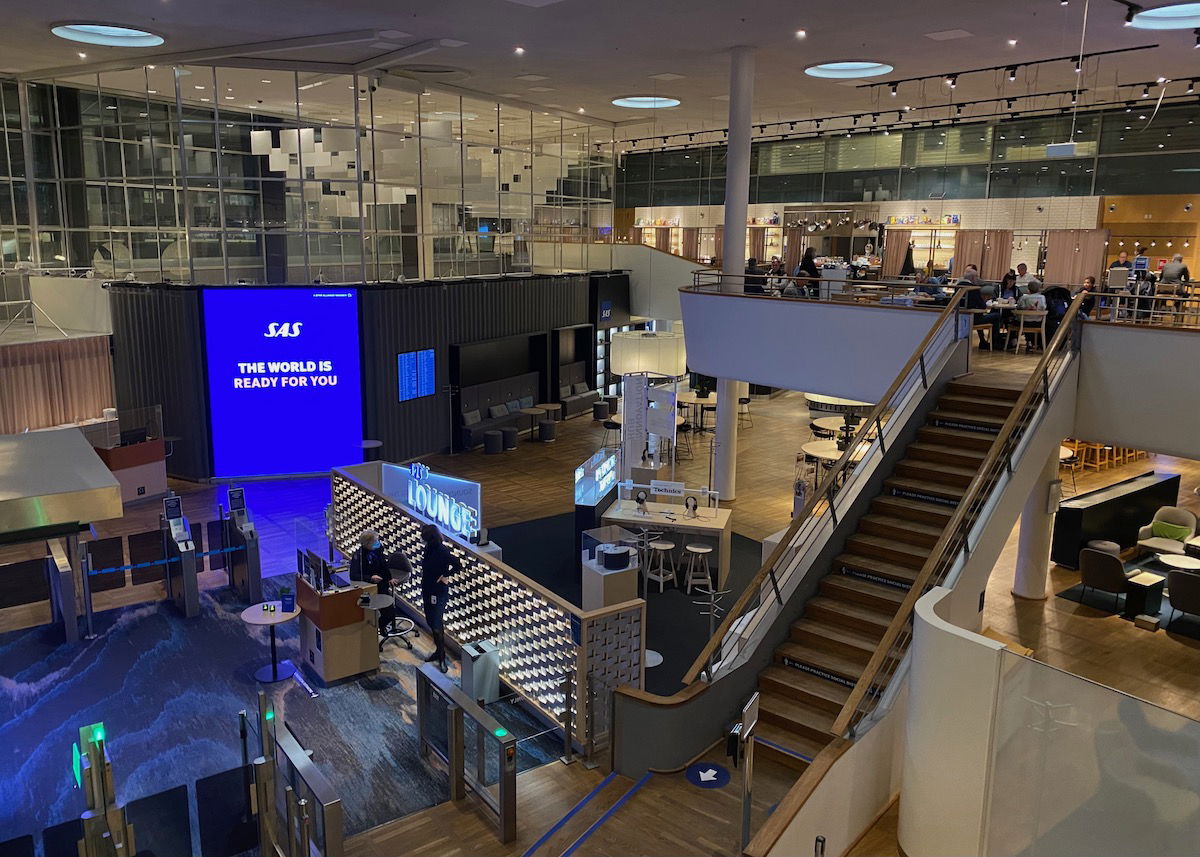 There was a very small seating area on the first floor which was open, with a nice design. This area remained empty, as all food and drink was on the second floor.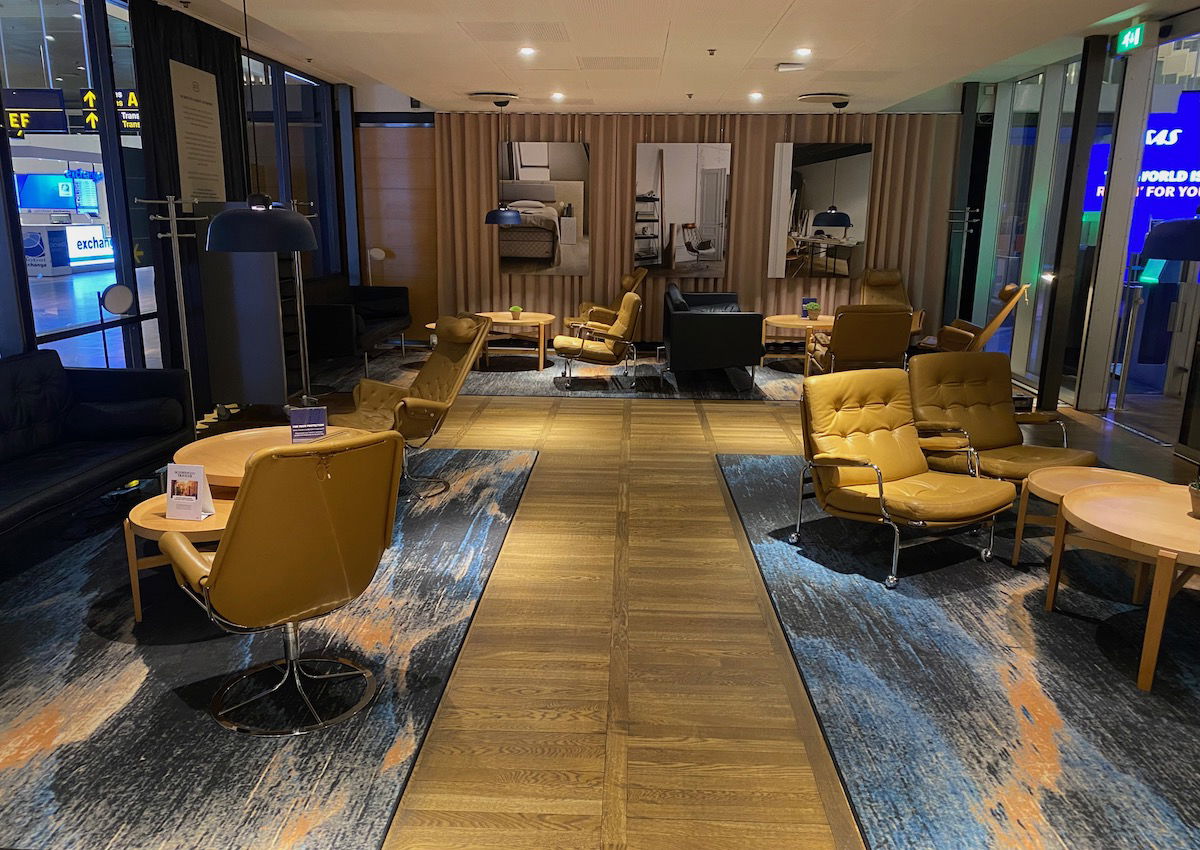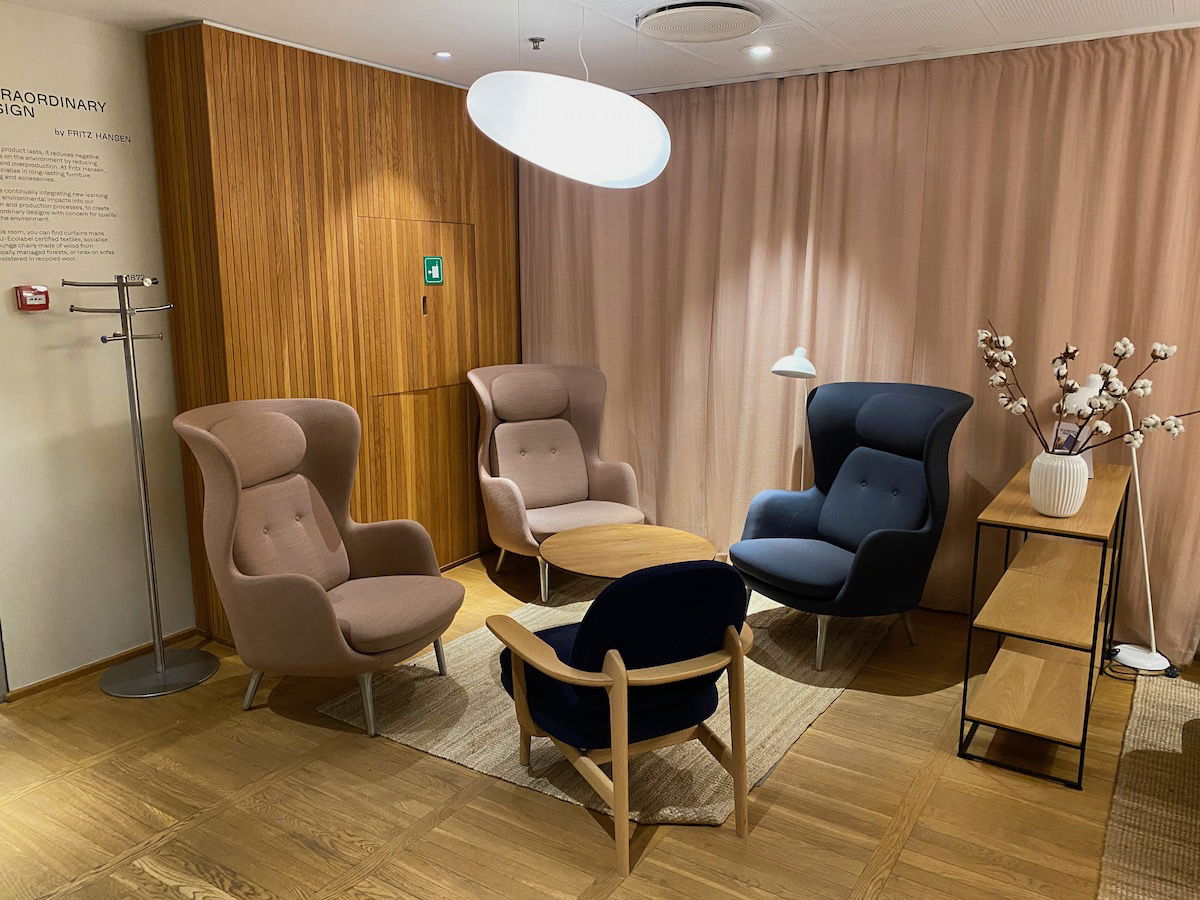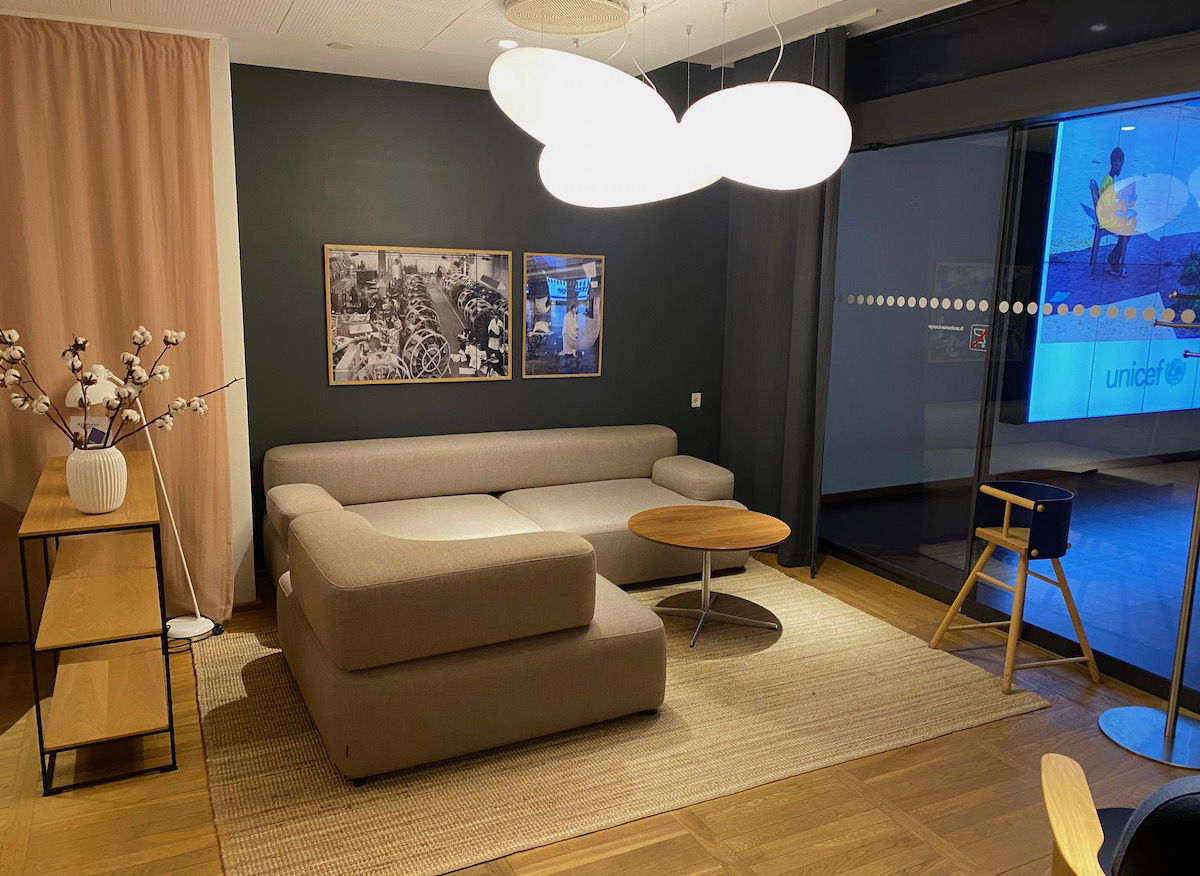 Below is a photo of part of the first floor lounge area, taken as I walked up the escalator (as it was not otherwise accessible).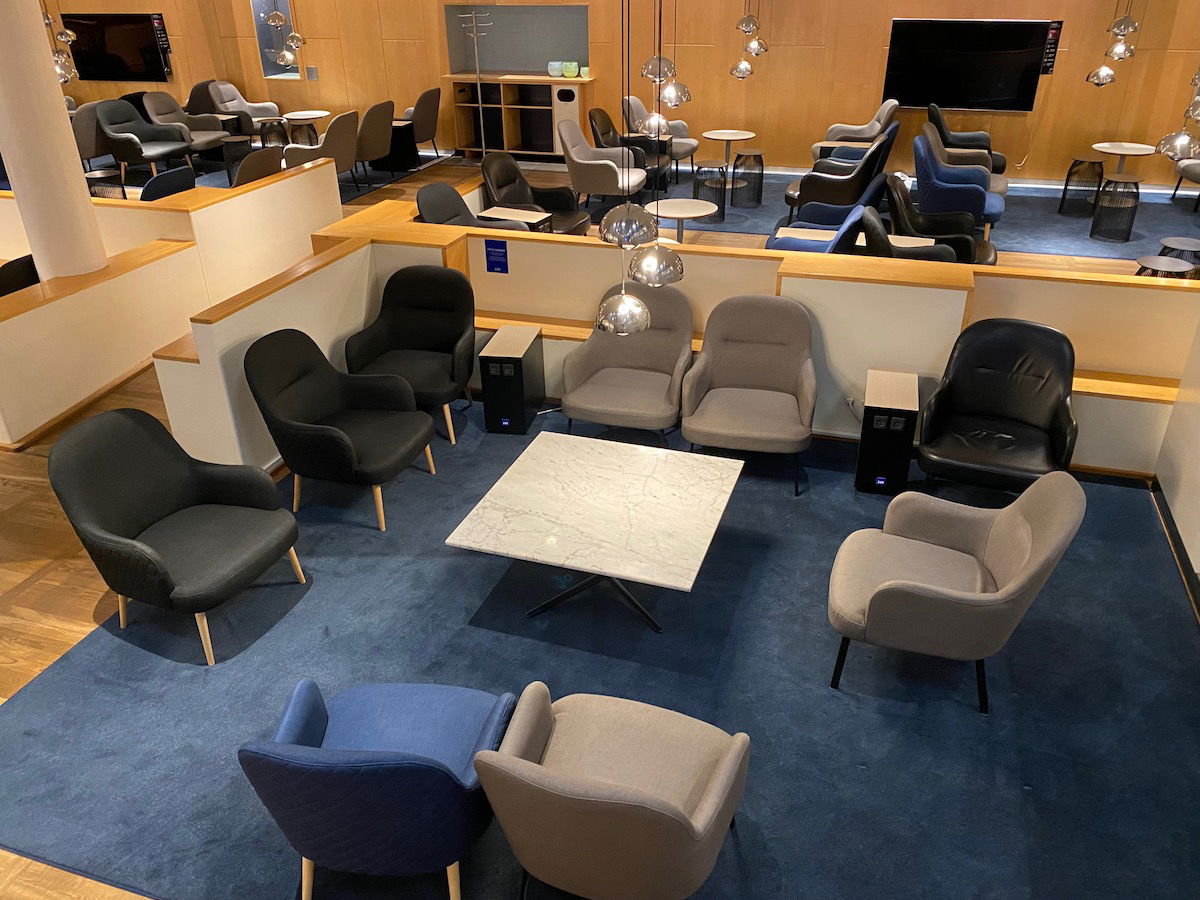 Unfortunately, the second floor ended up being really crowded. I can understand that airlines are in a tough financial situation, but it's a little frustrating to cram everyone into the smallest part of the lounge, while leaving the rest of the lounge empty.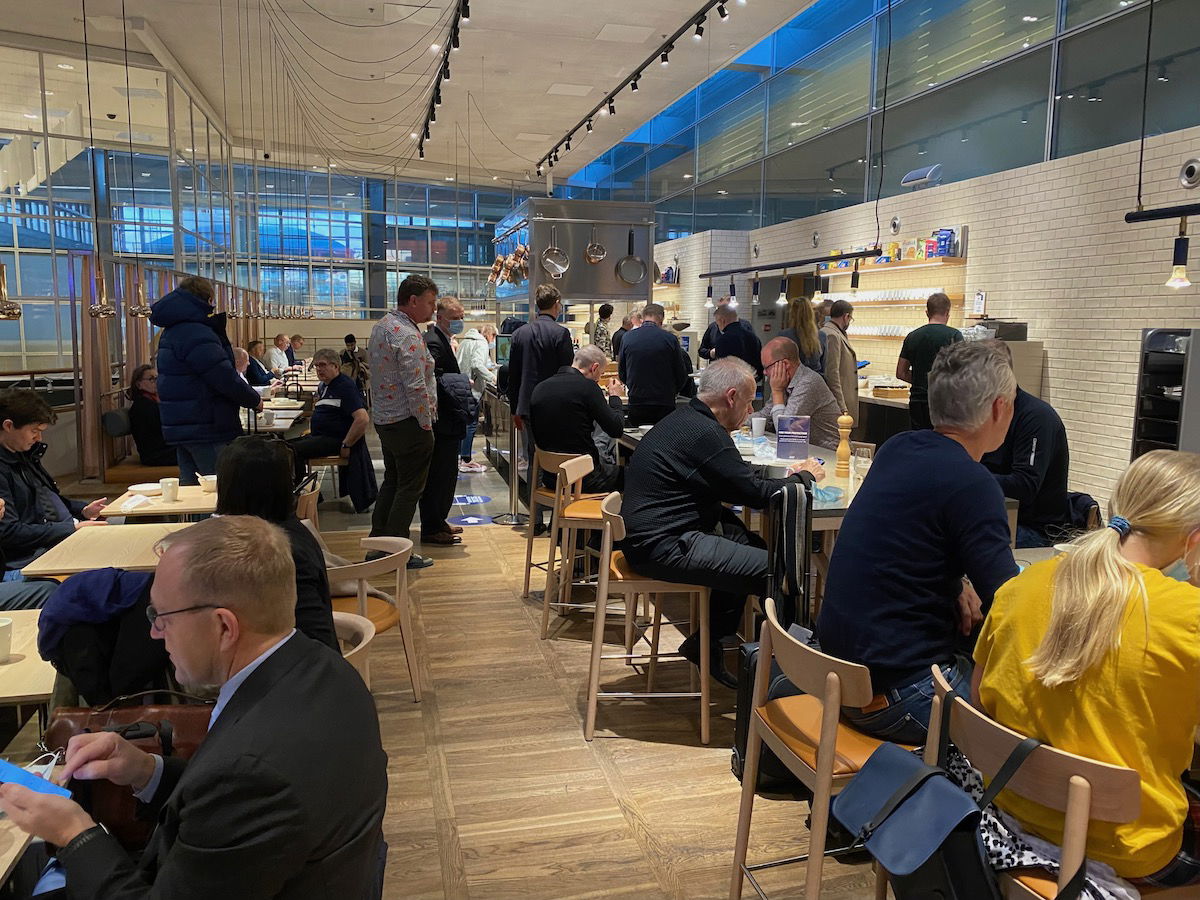 I managed to take photos strategically as people got up, but it took some effort. So don't assume the living room was as empty as some of the photos I captured below.
At the top of the escalator were quite elegant couches. I'm not sure they're necessarily as functional, though, between the lack of outlets and the general challenge of trying to eat, drink or work while sitting here.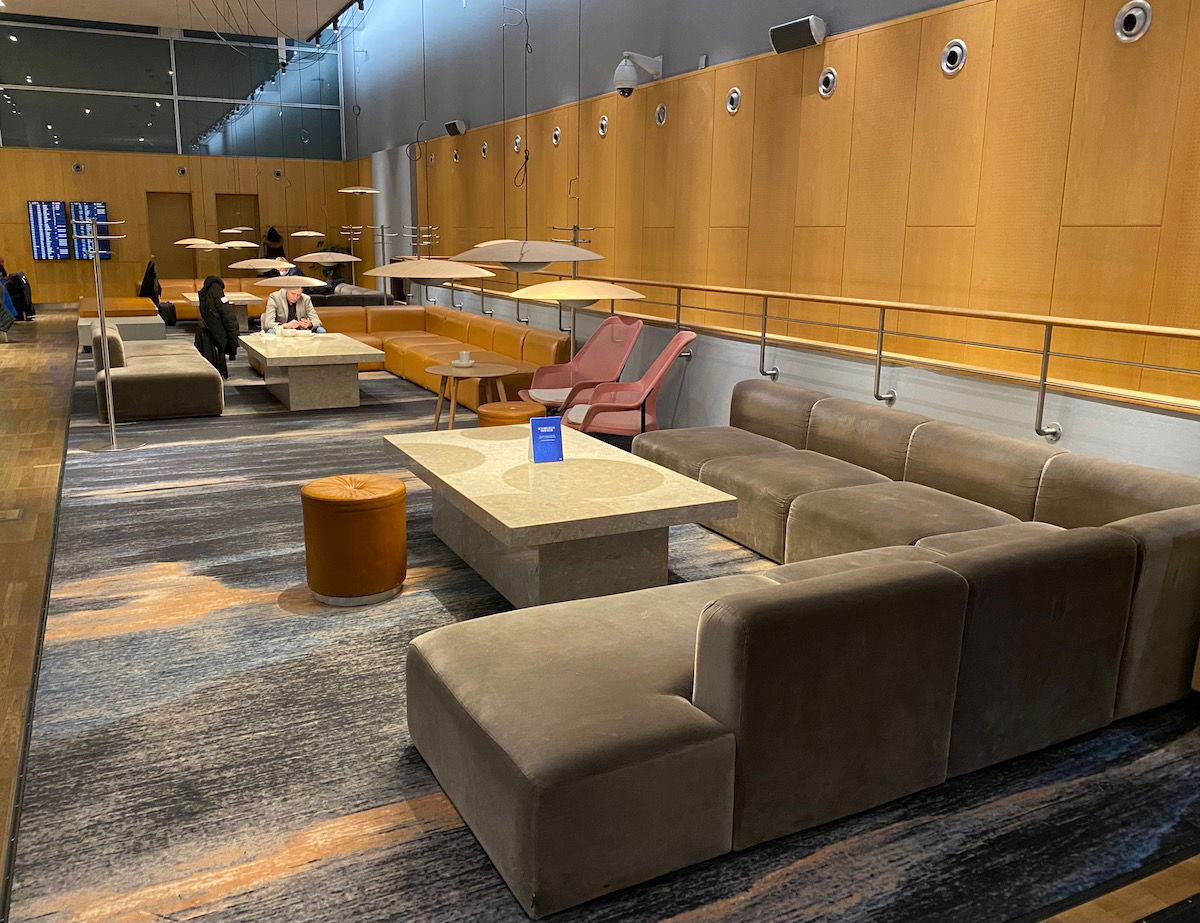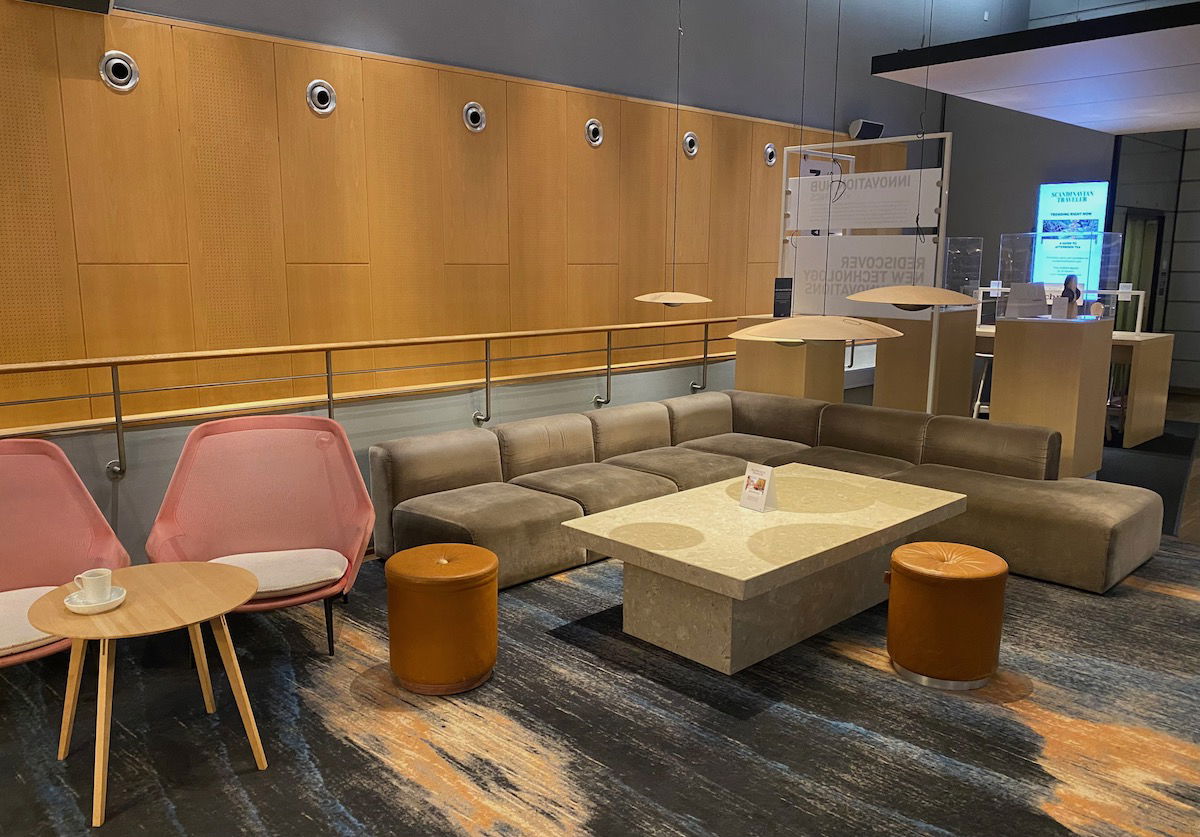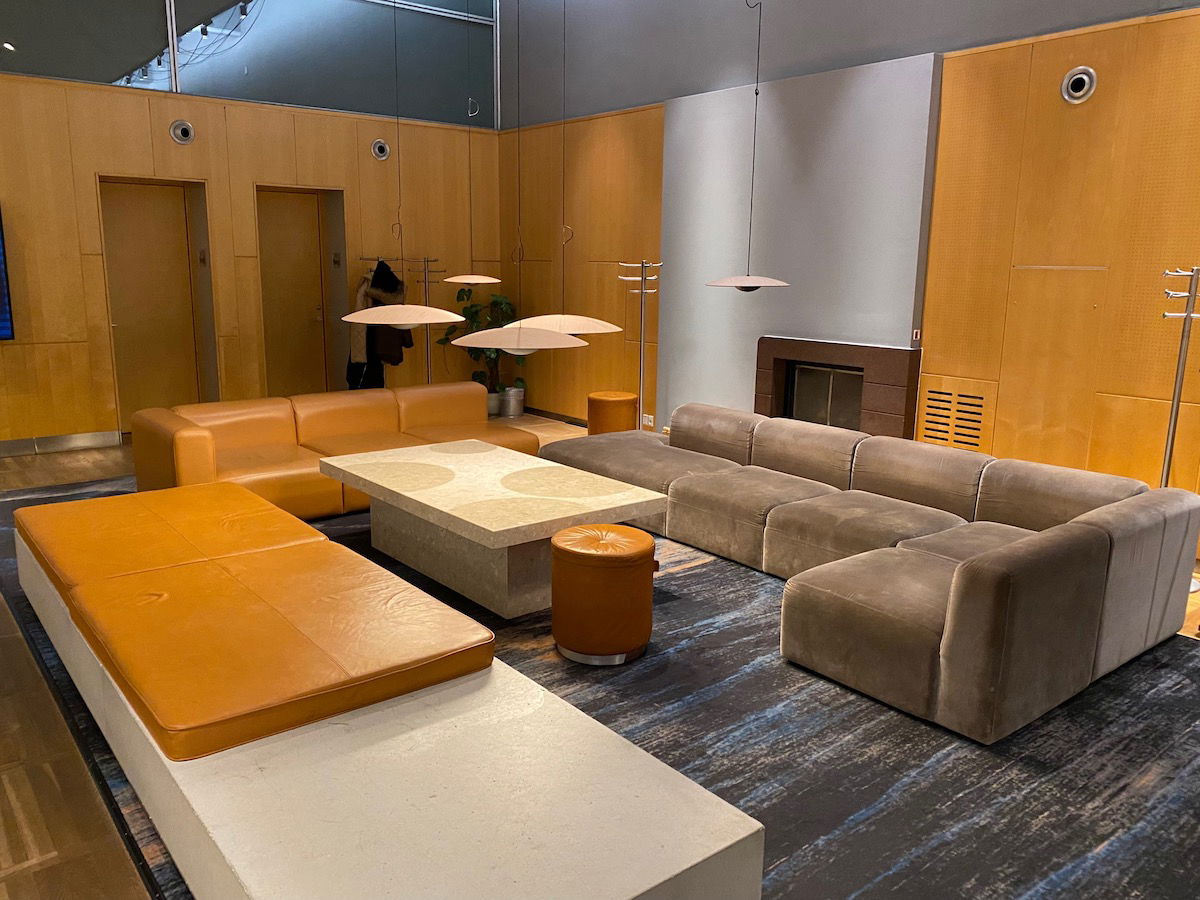 There was then an area with a bunch of dining tables that each had two to four chairs.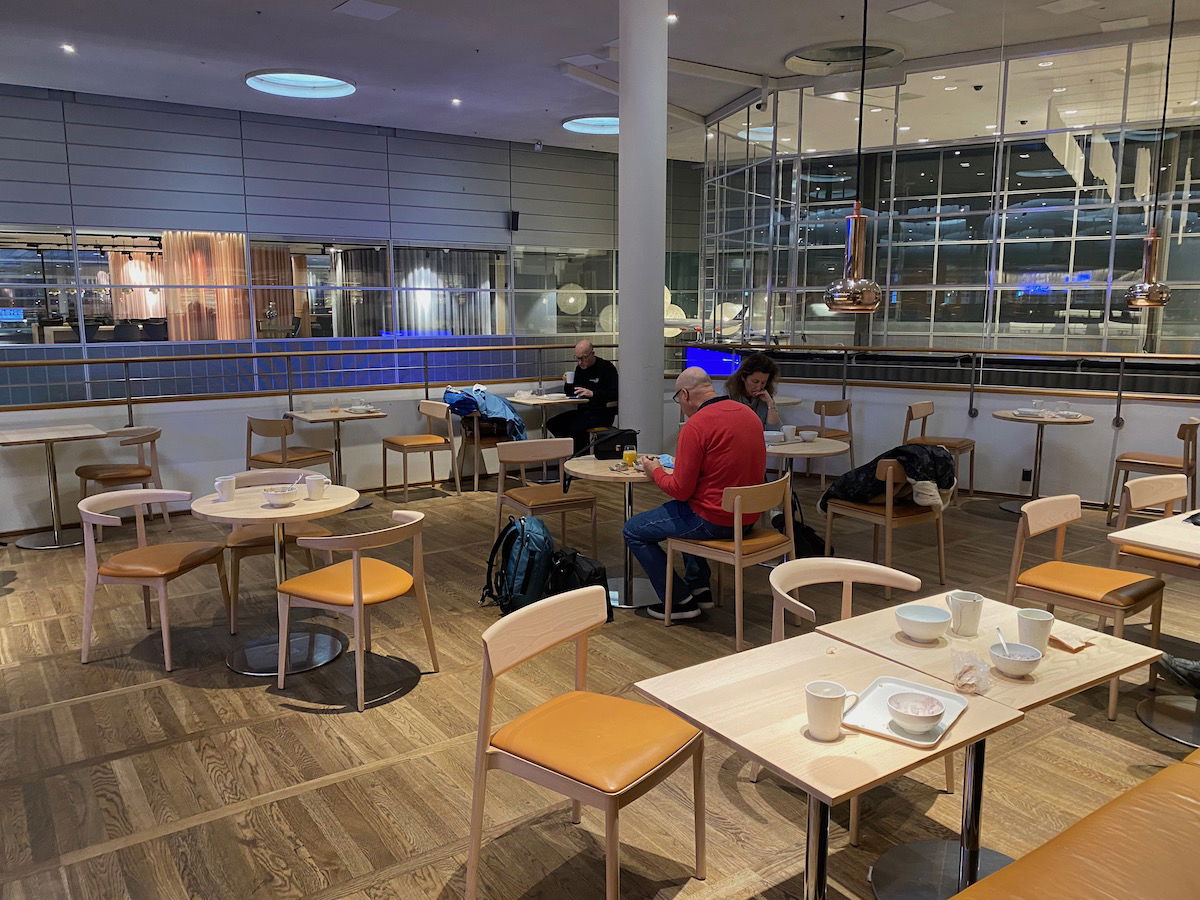 The rest of the seating in this area consisted of communal tables with high stools, as well as booths.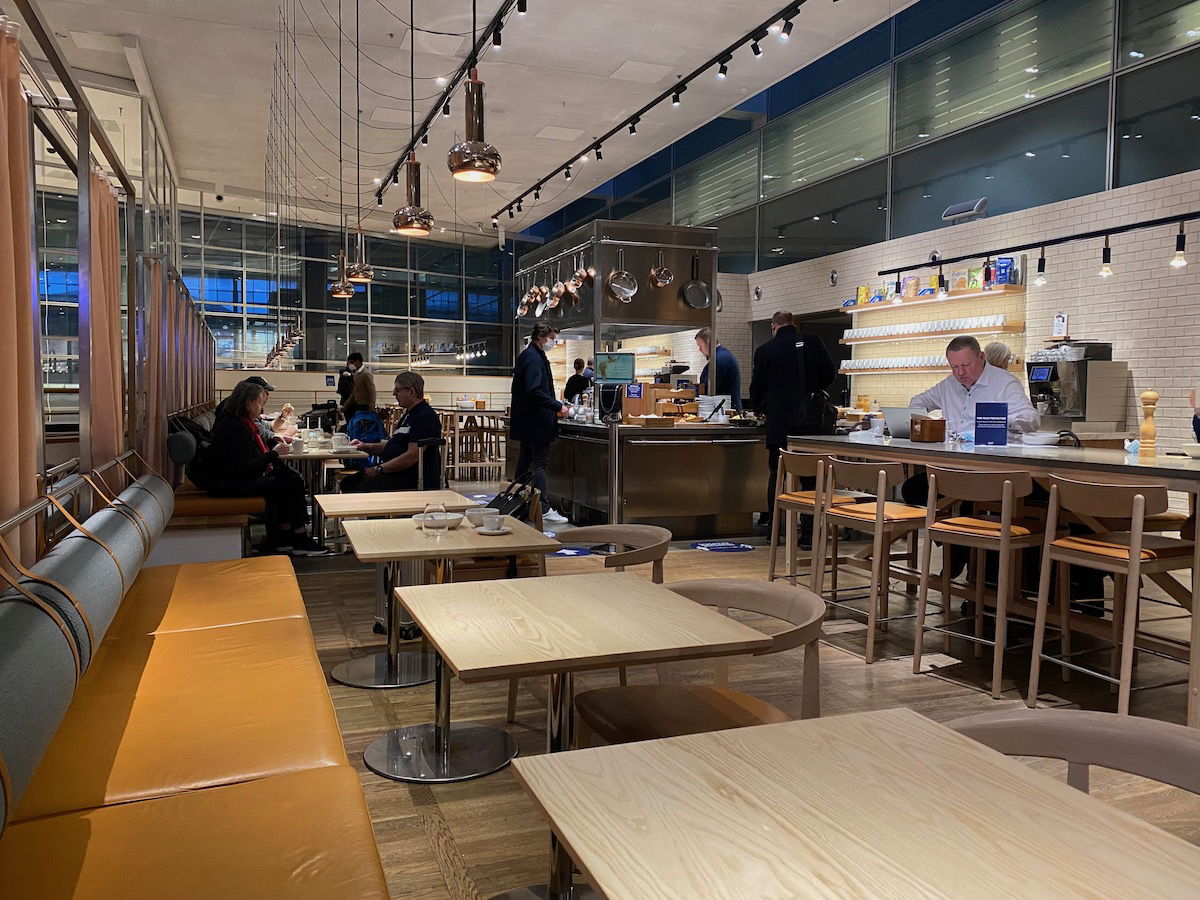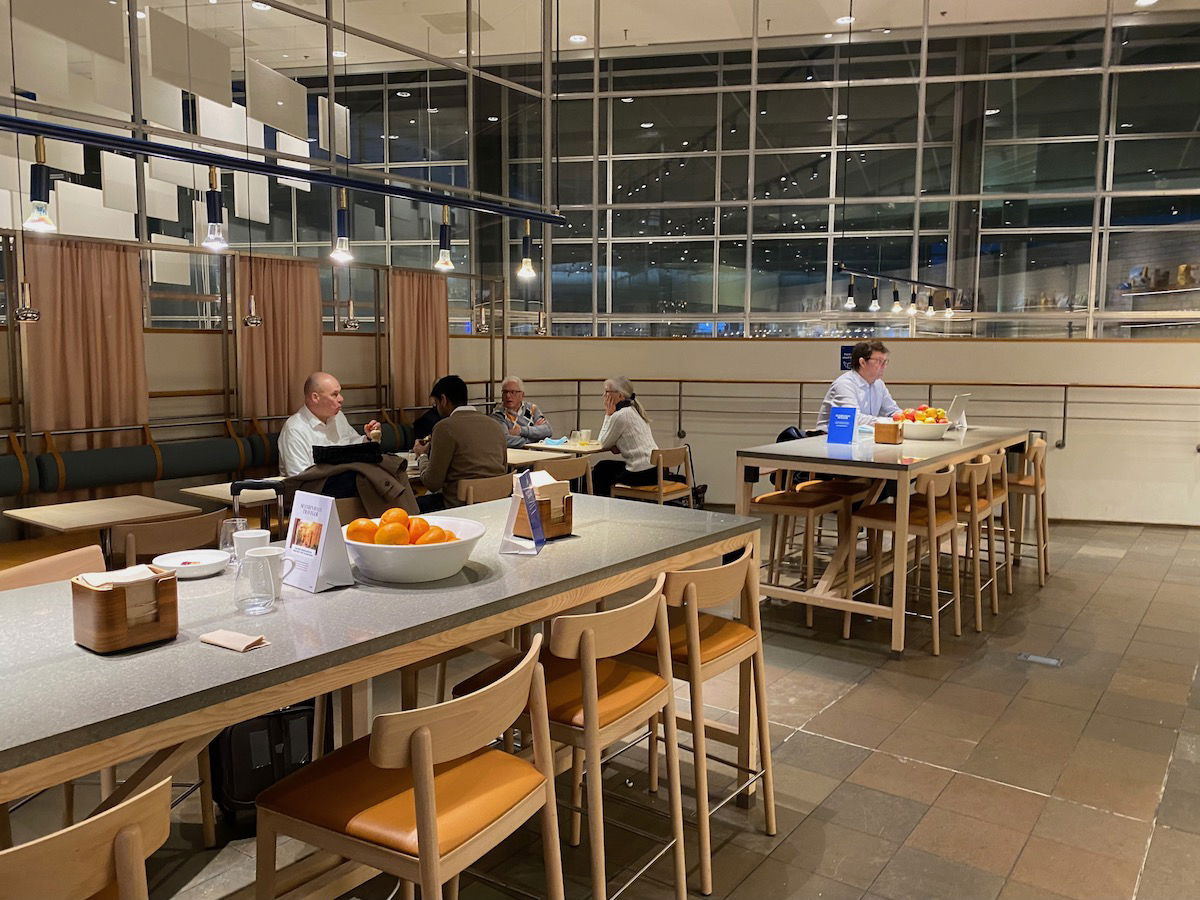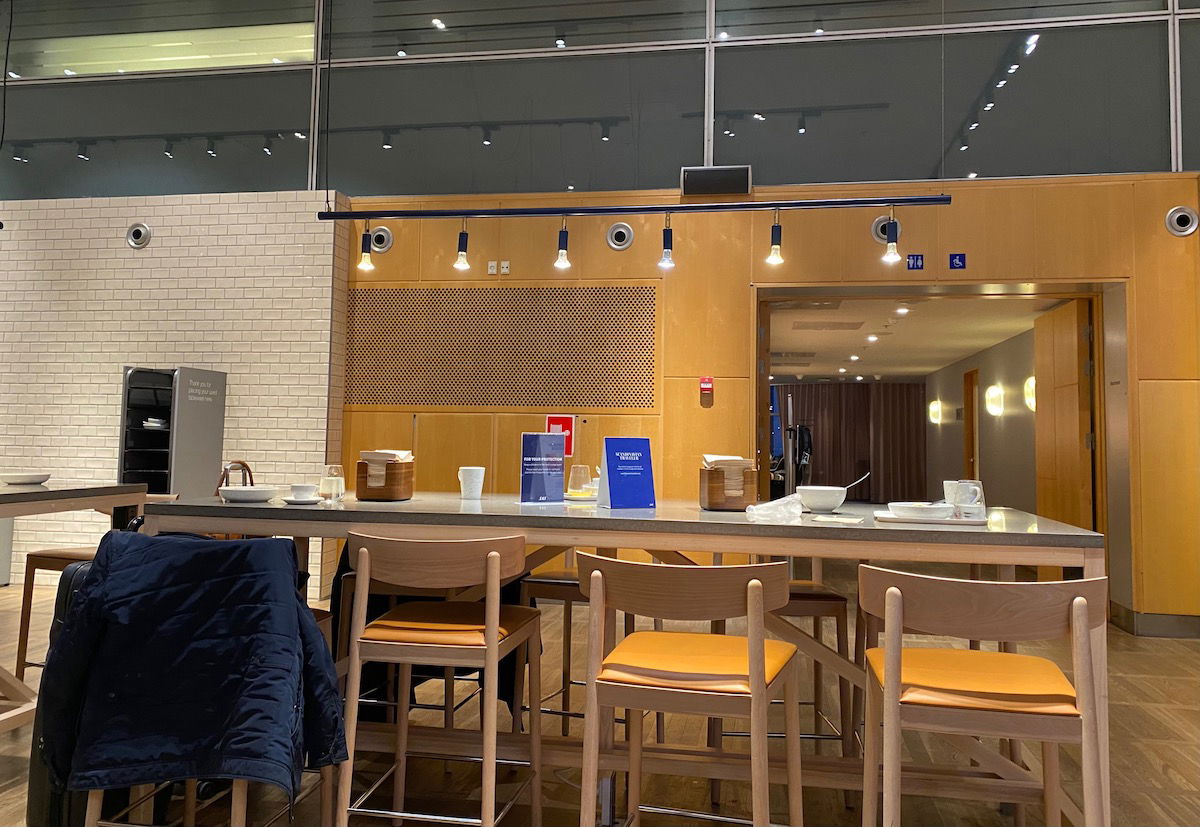 From the main part of the lounge was a hallway leading to the rear of the lounge, which had more traditional lounge seating, with seats arranged in rows.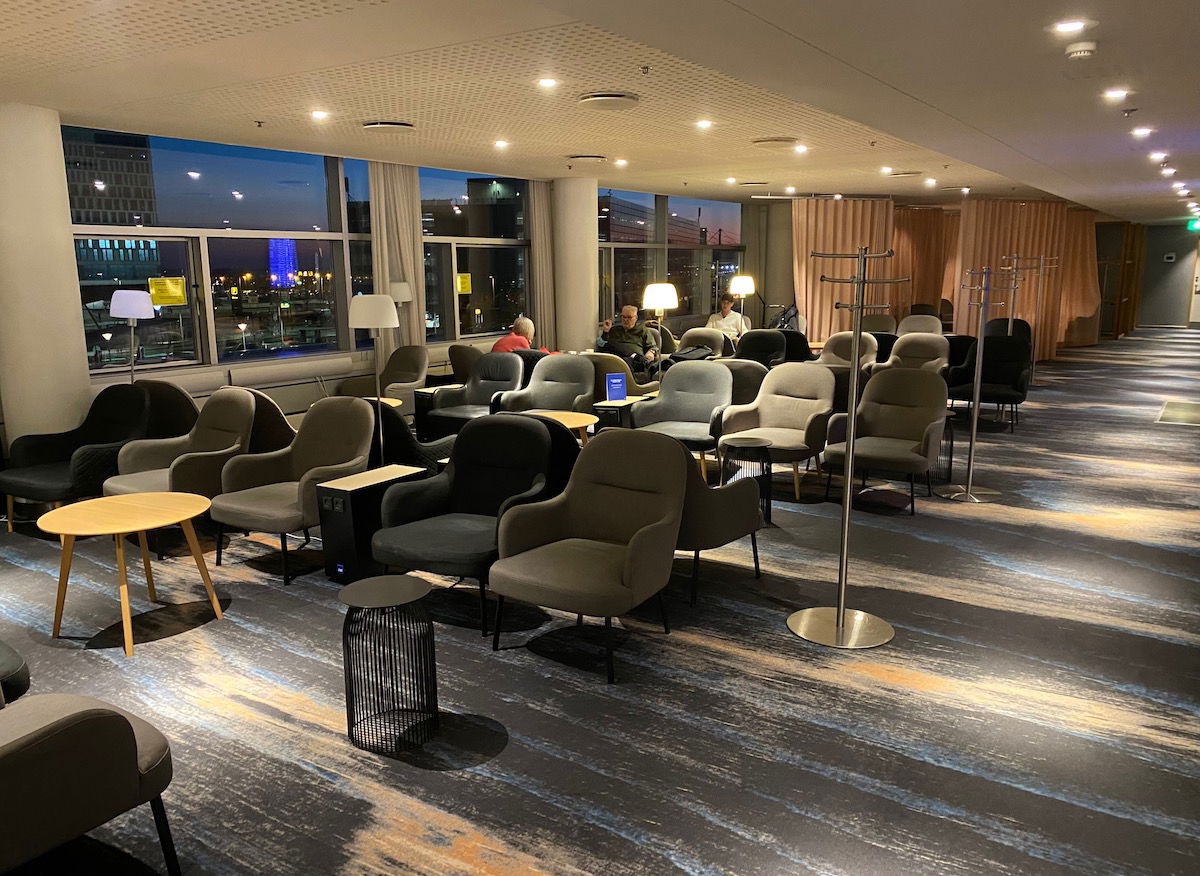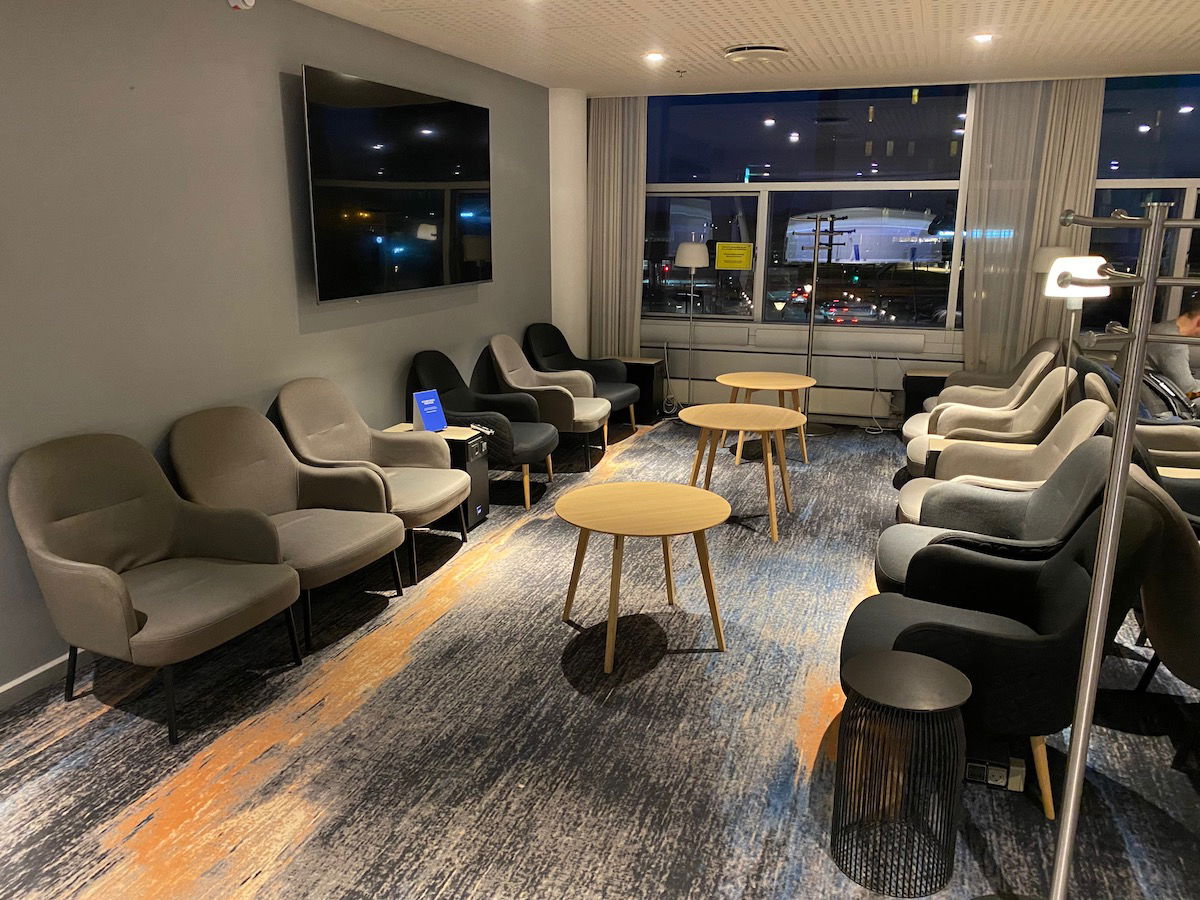 There were also areas with curtains, for those looking for a bit more privacy or to rest.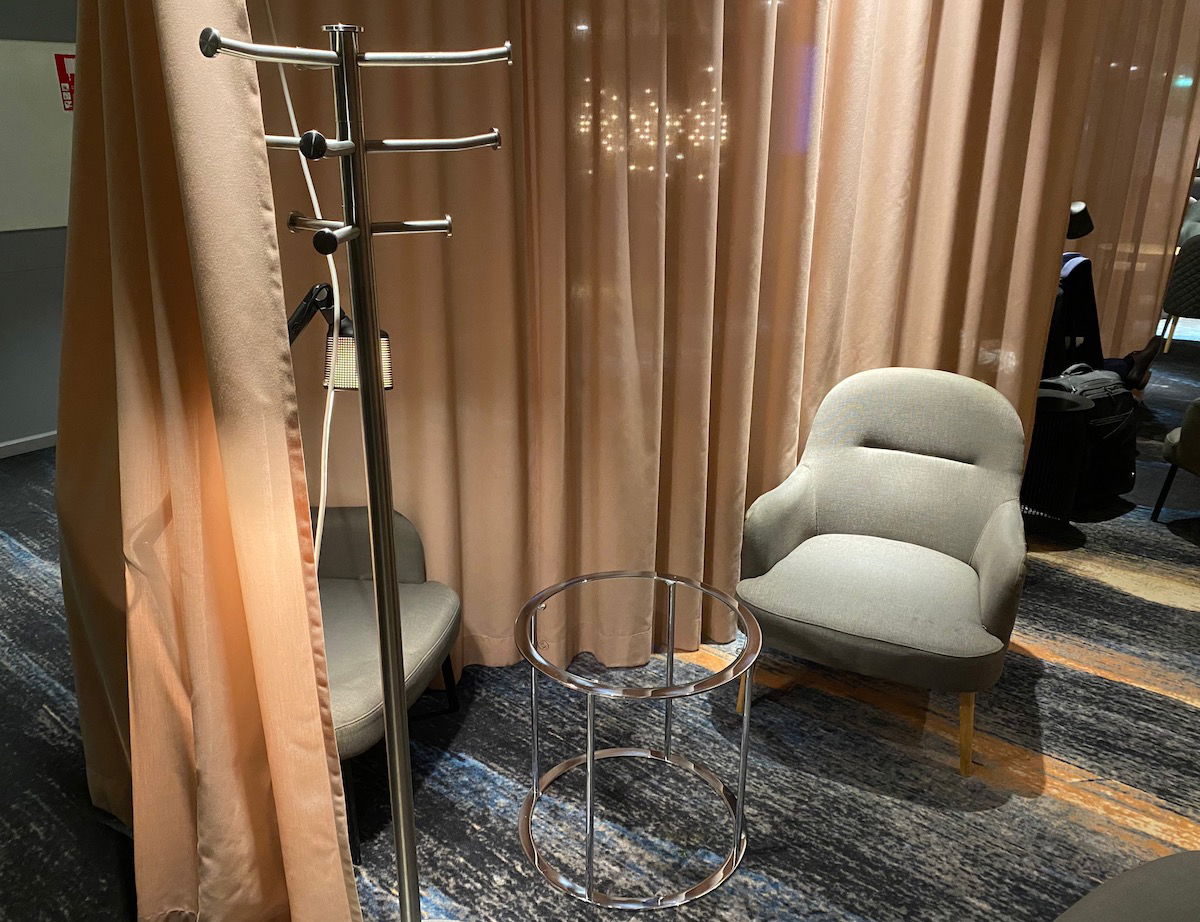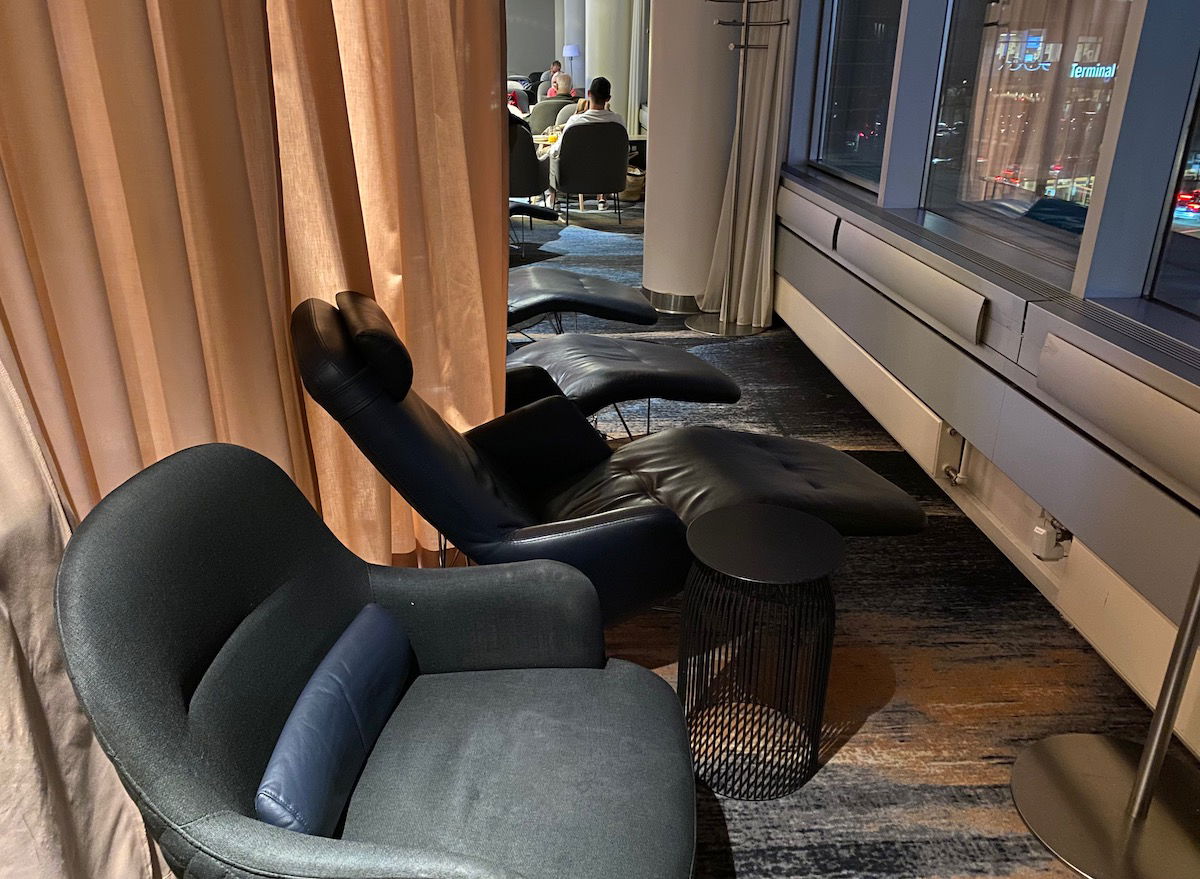 There was a business center in this area of ​​the lounge, with four computers.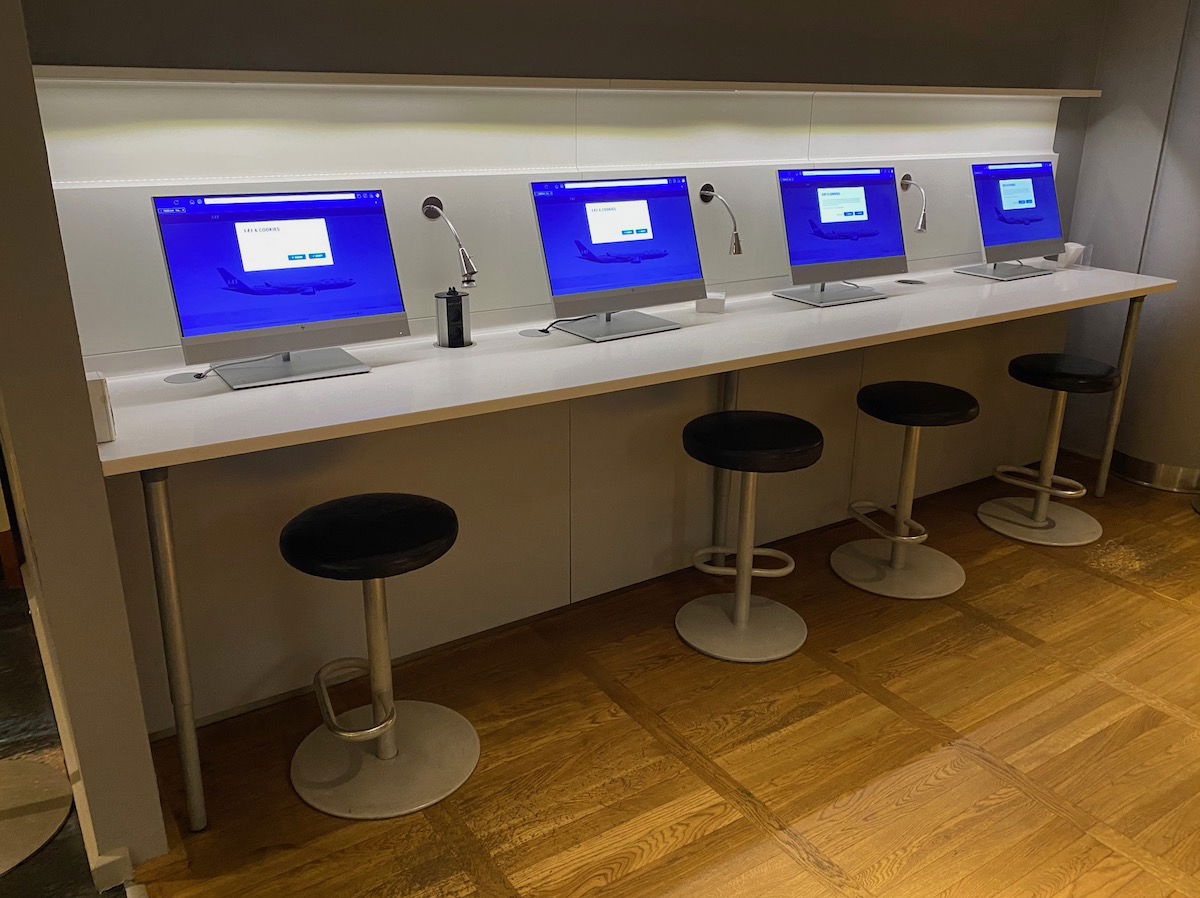 There was another part of the living room that remained mostly empty, which consisted of shared workstations. It was quite a distance from the buffet, and besides, I think a lot of people missed it, because it's the opposite of the rest of the living room.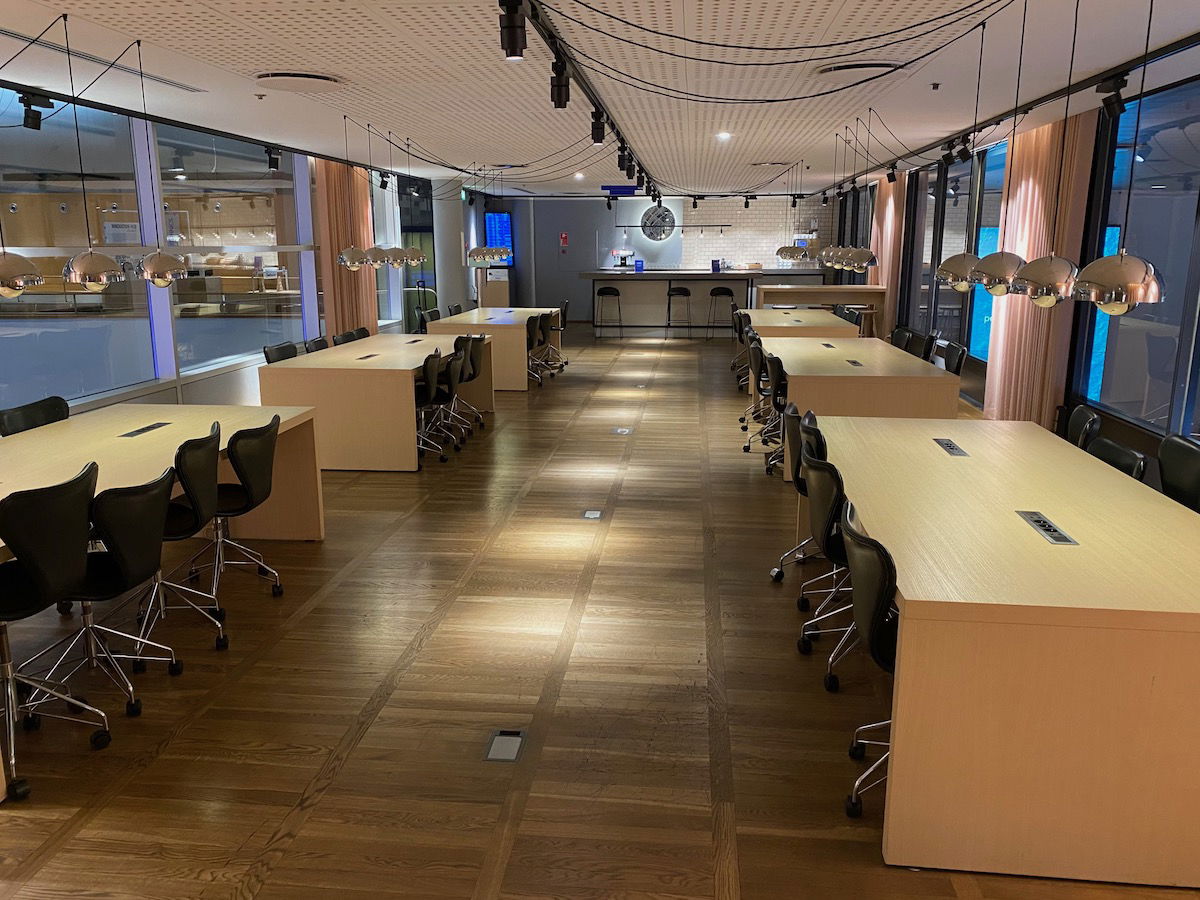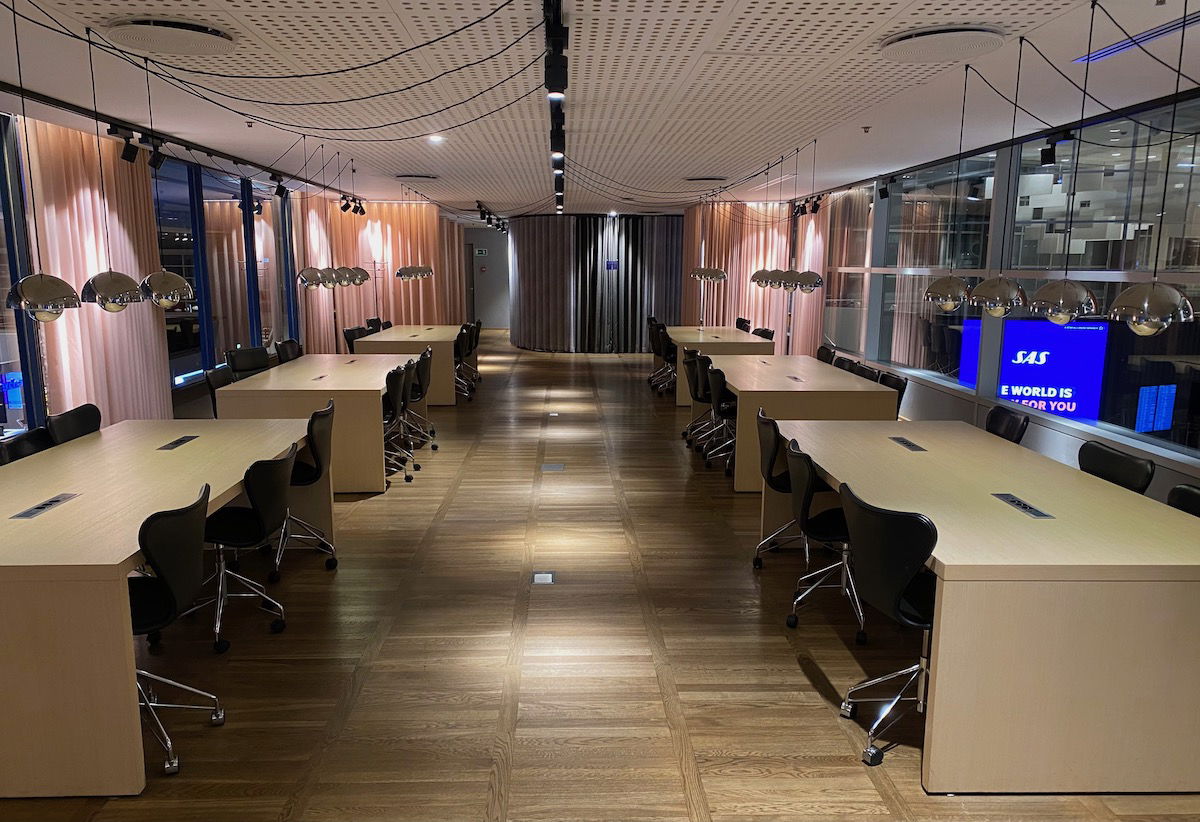 There were also a few semi-private workstations, unfortunately facing the terminal rather than the apron (otherwise the views would have been really cool).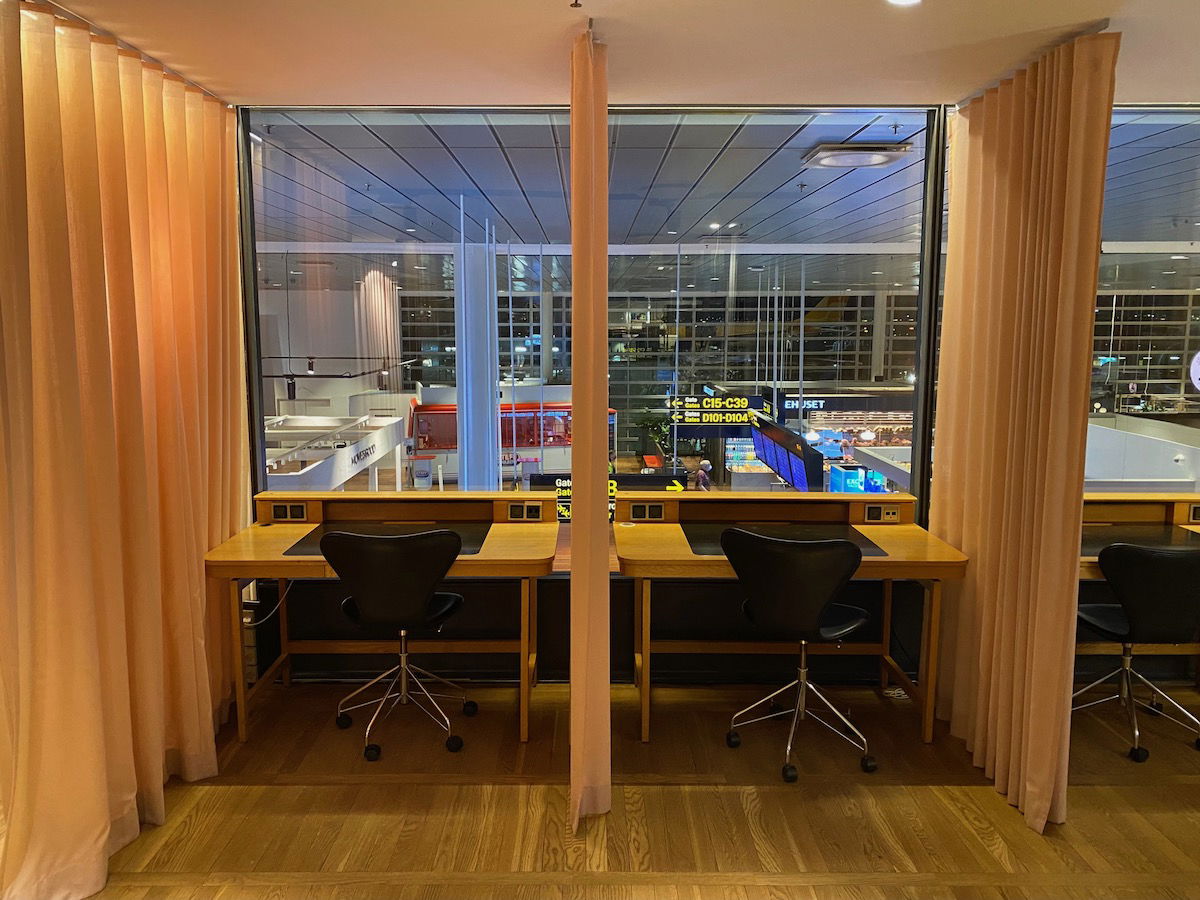 The living room had a 'daylight booster zone', meant to cool you down if you are jet lagged.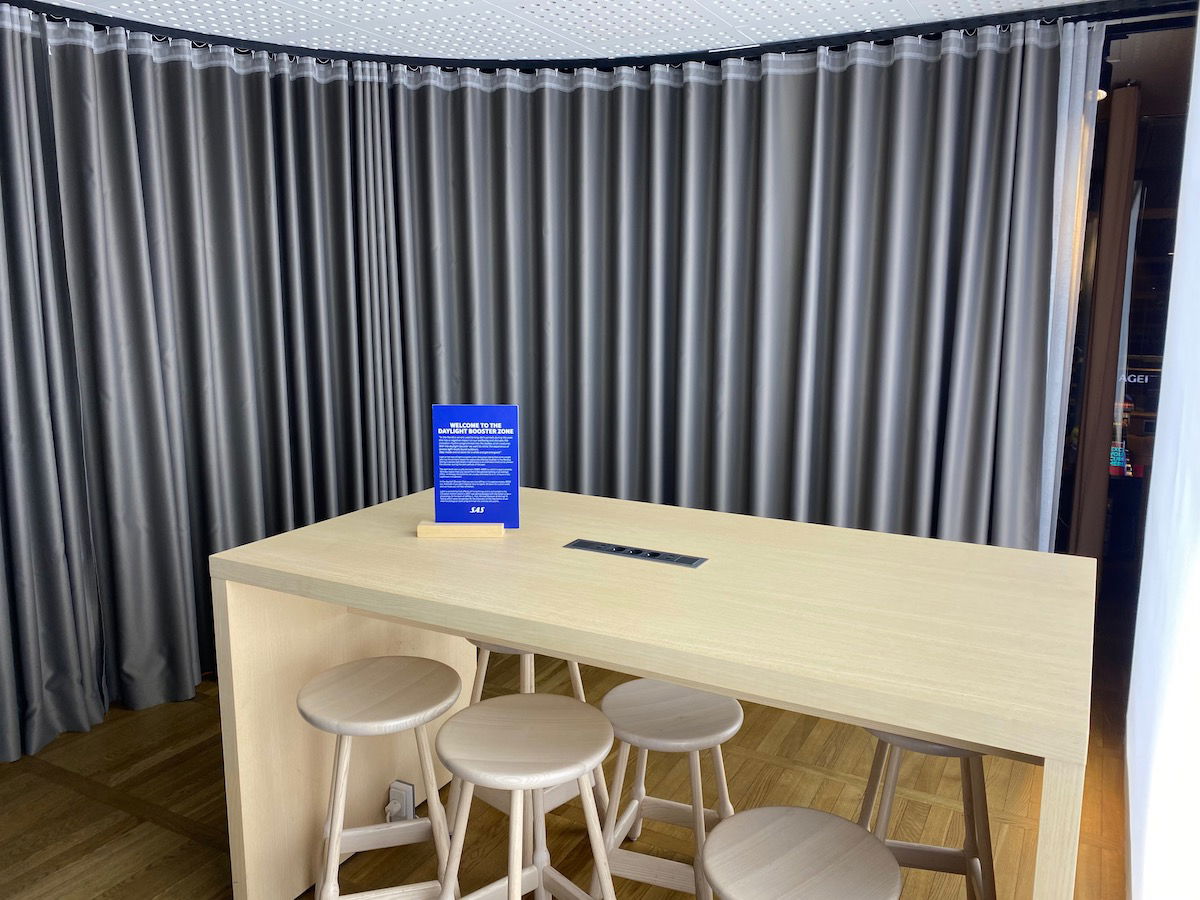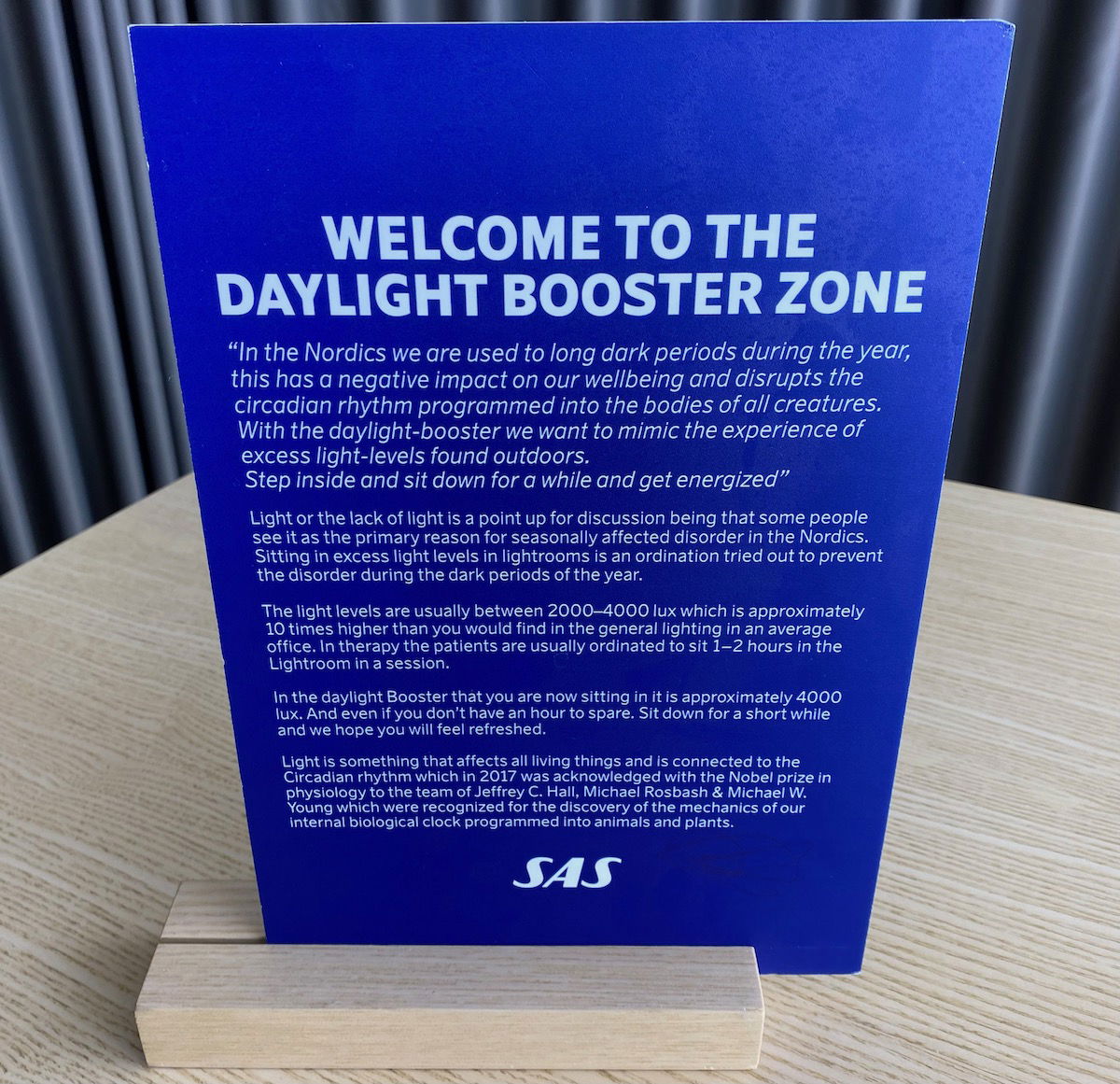 There were also private cabins in this area.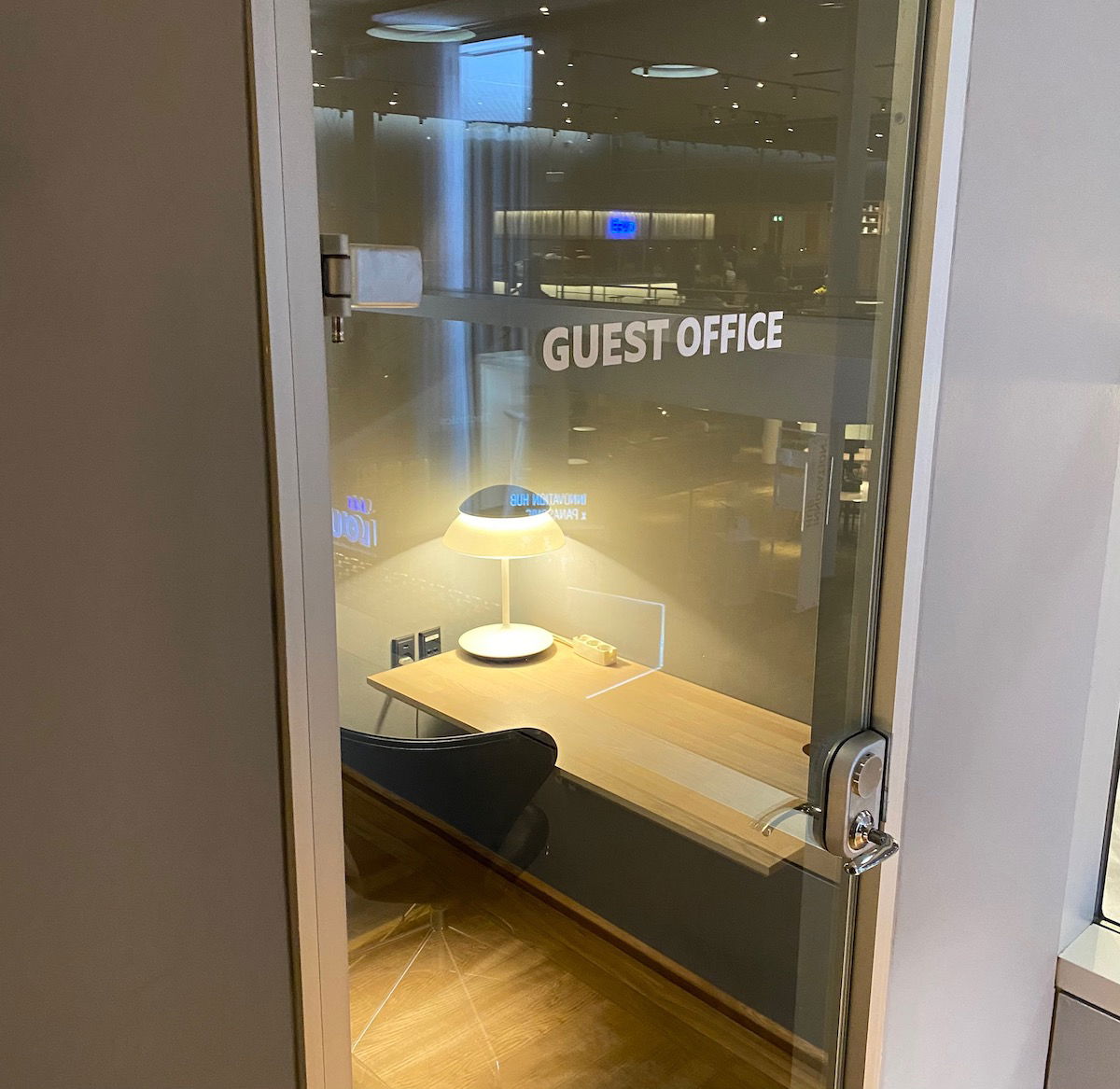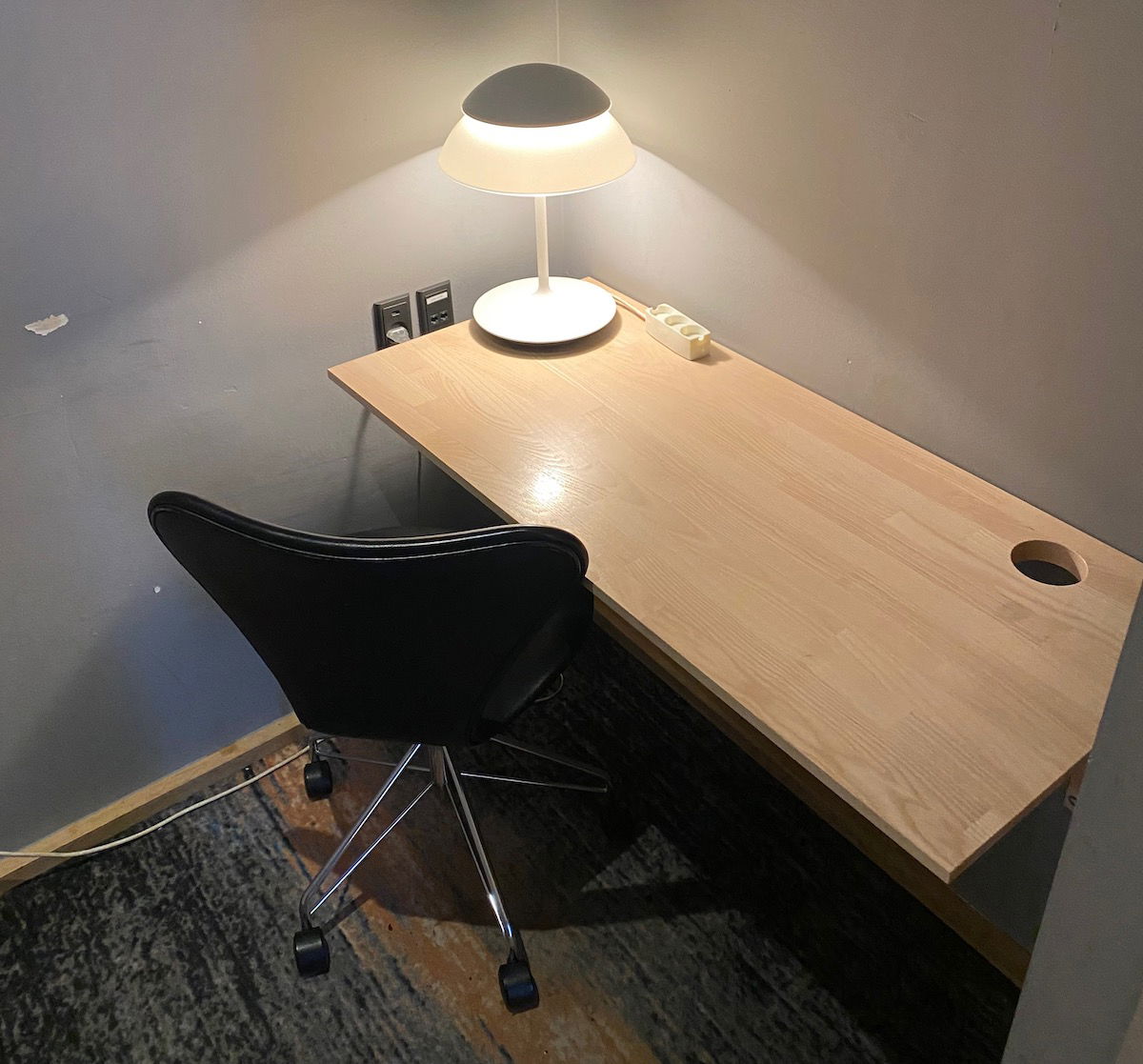 SAS Lounge Copenhagen food and drink
The food and drink selection in the SAS lounge was disappointing and the buffet was constantly busy considering the number of guests.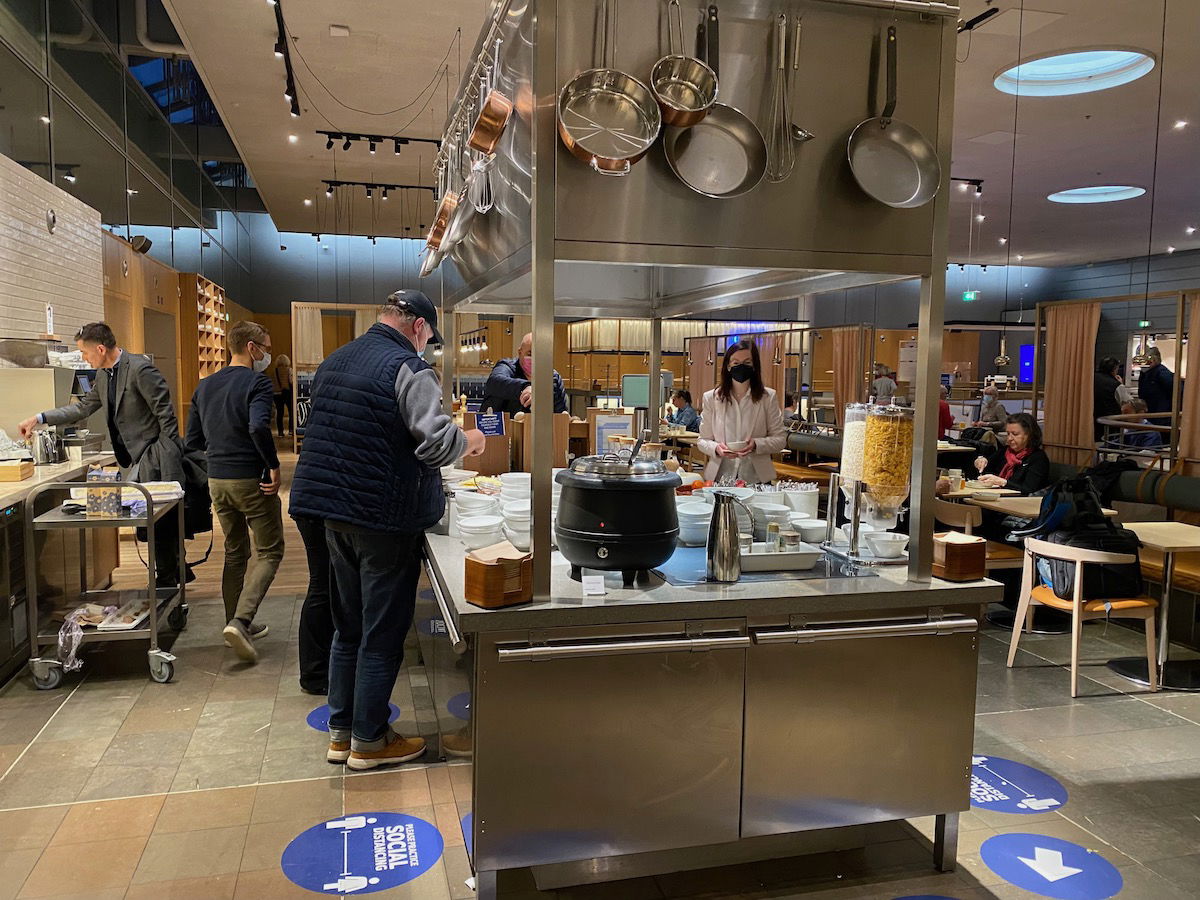 The breakfast selection included toast, rolls, pastries, cereal, yogurt, cold cuts, vegetables and cheese. There weren't many hot items except oatmeal.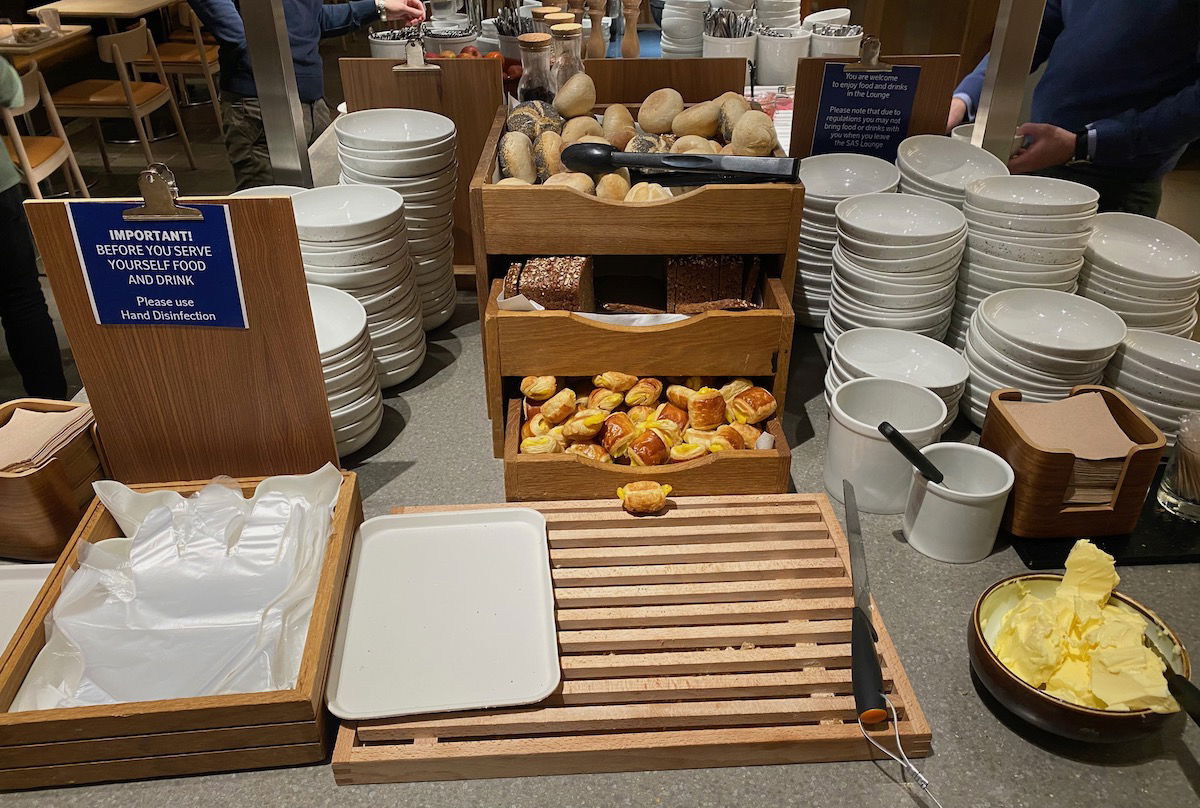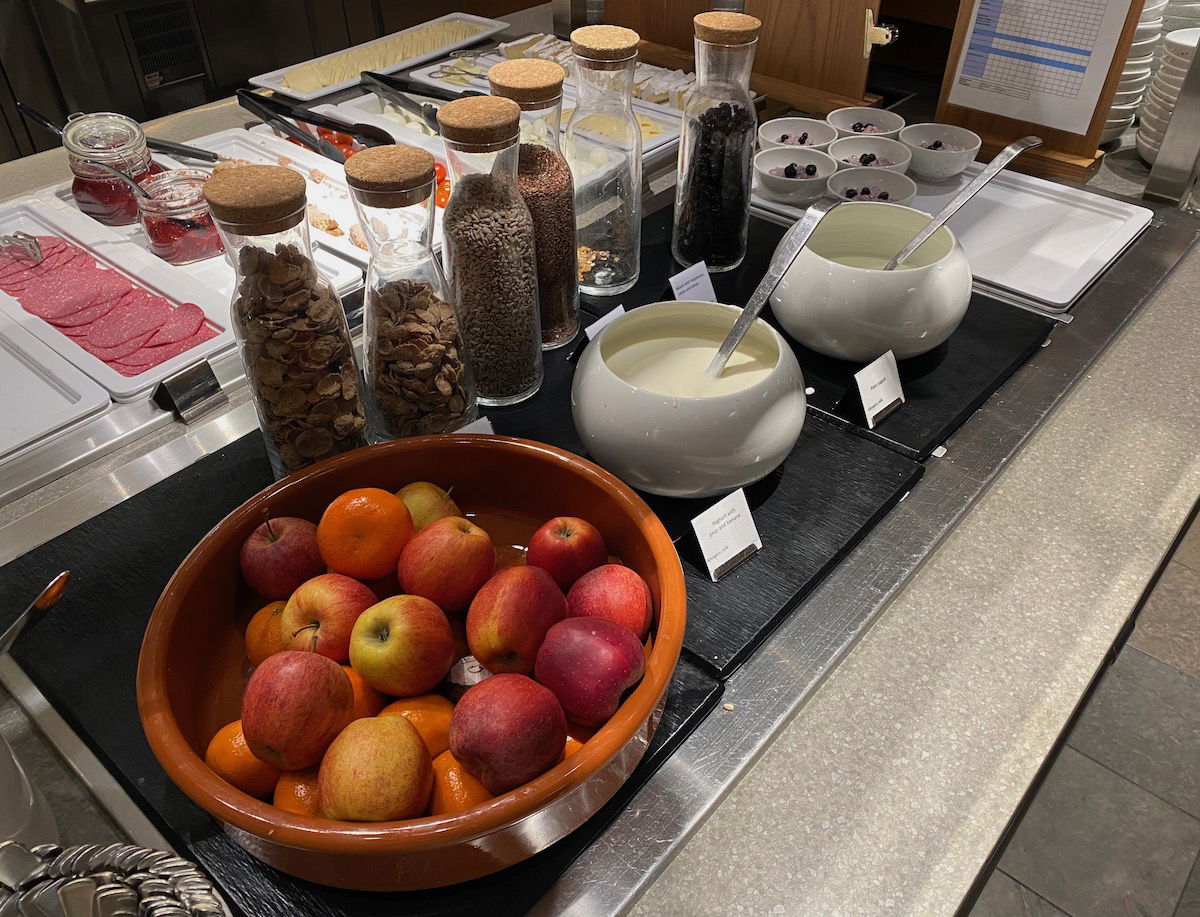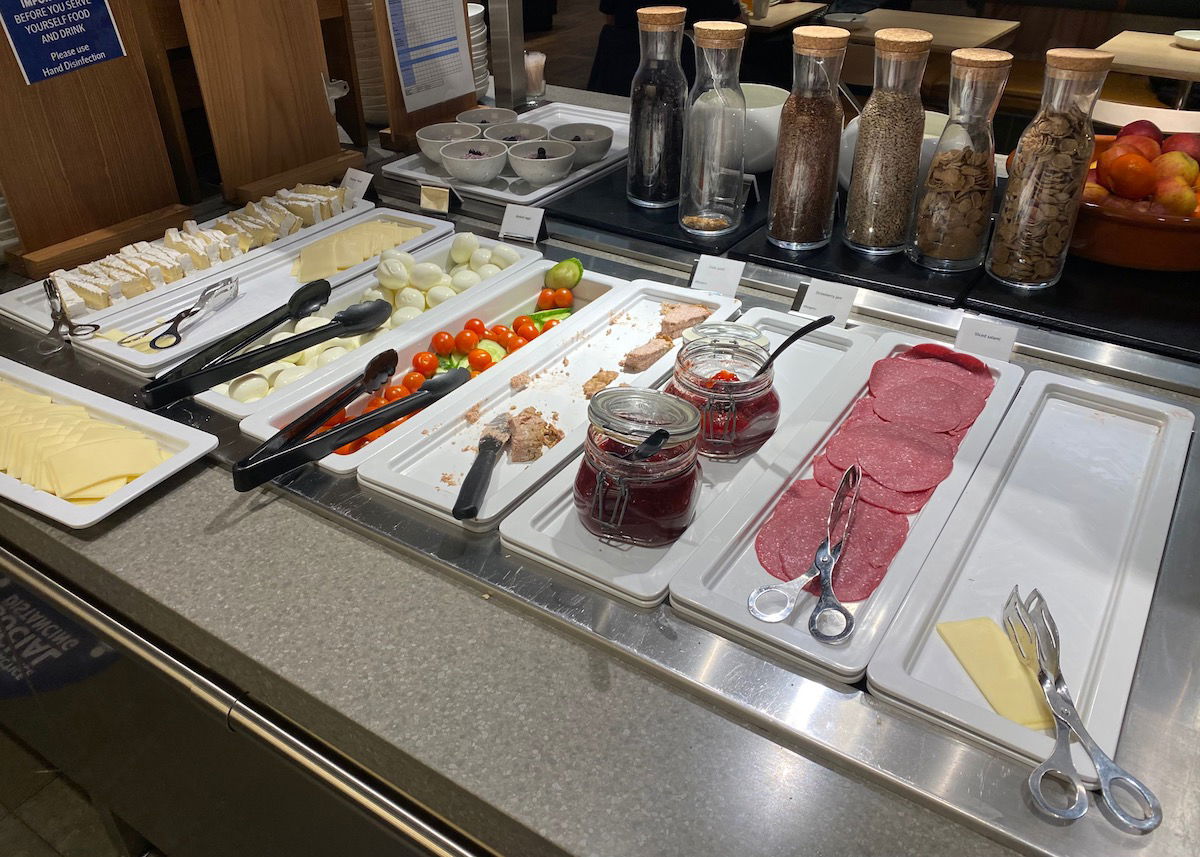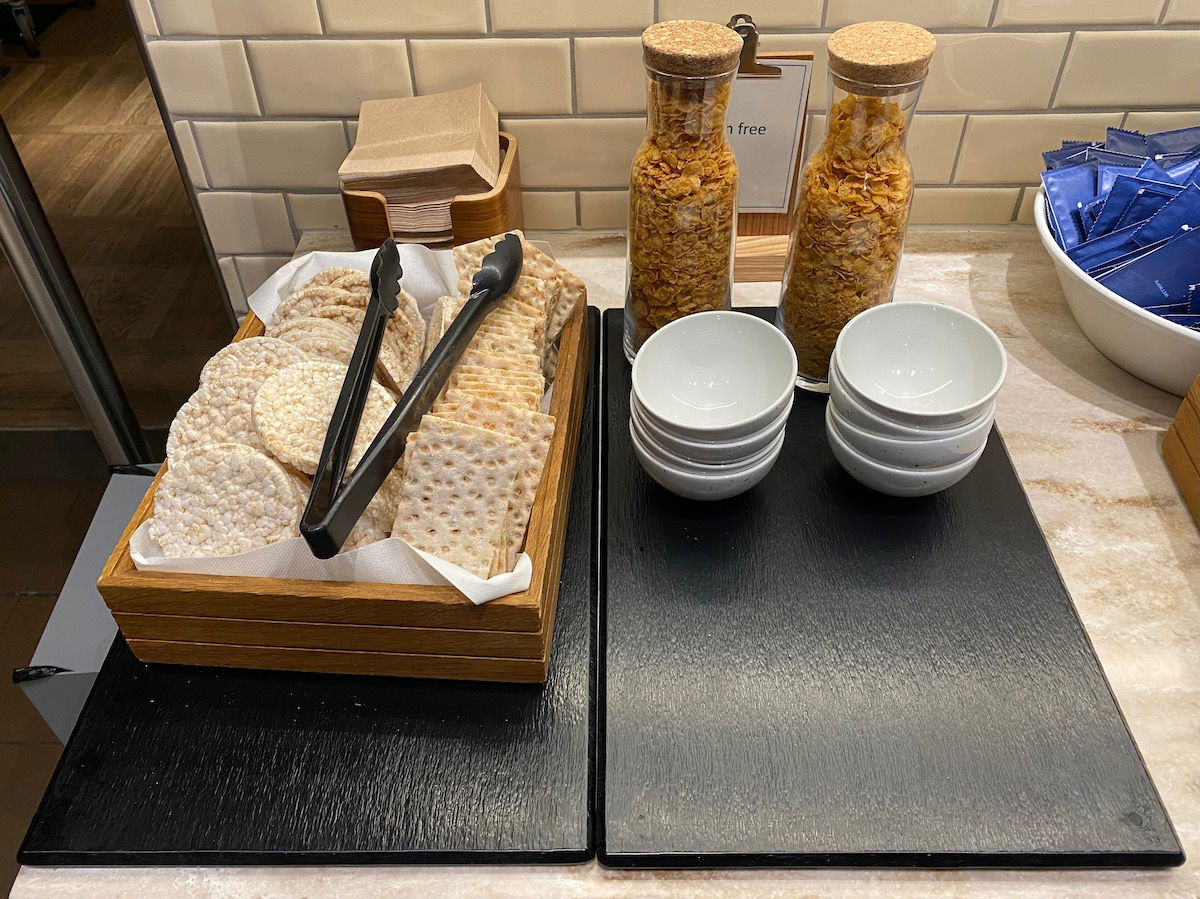 There was self serve beer, wine, juice, soda, coffee, tea, etc.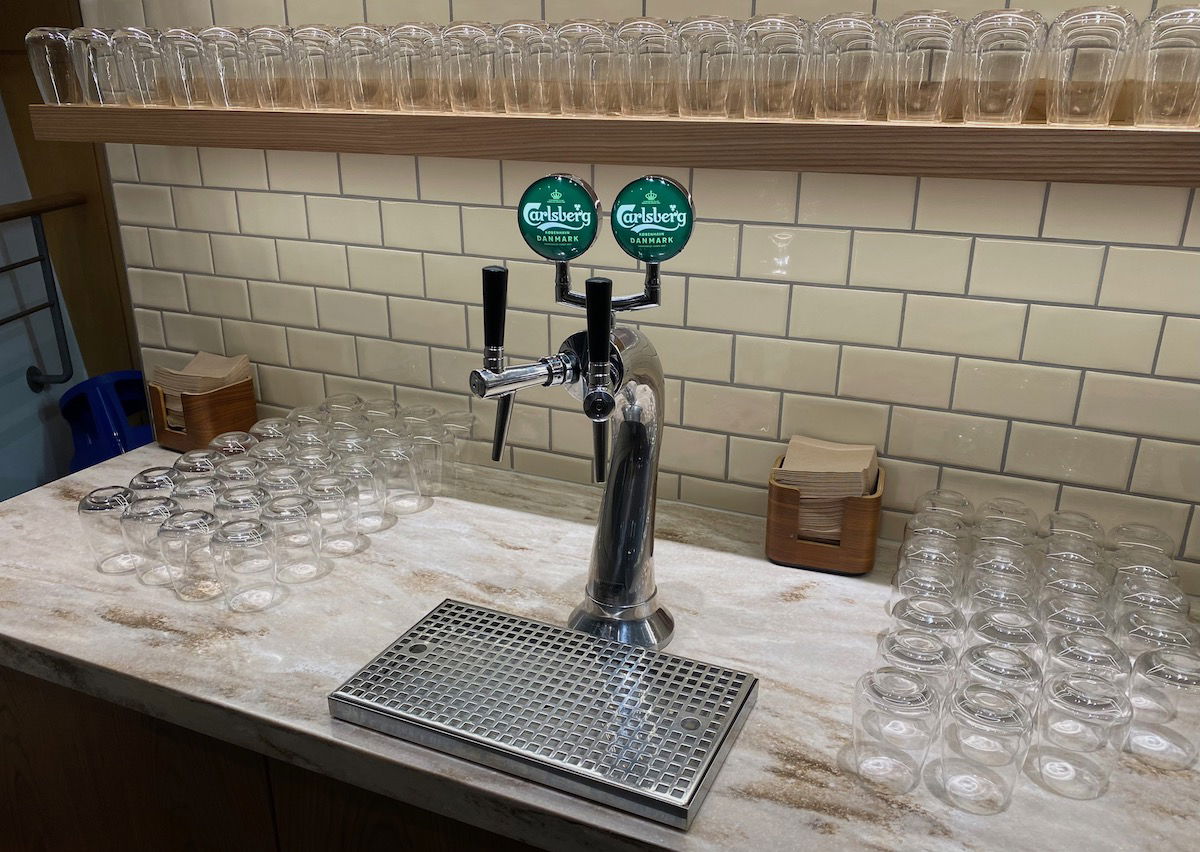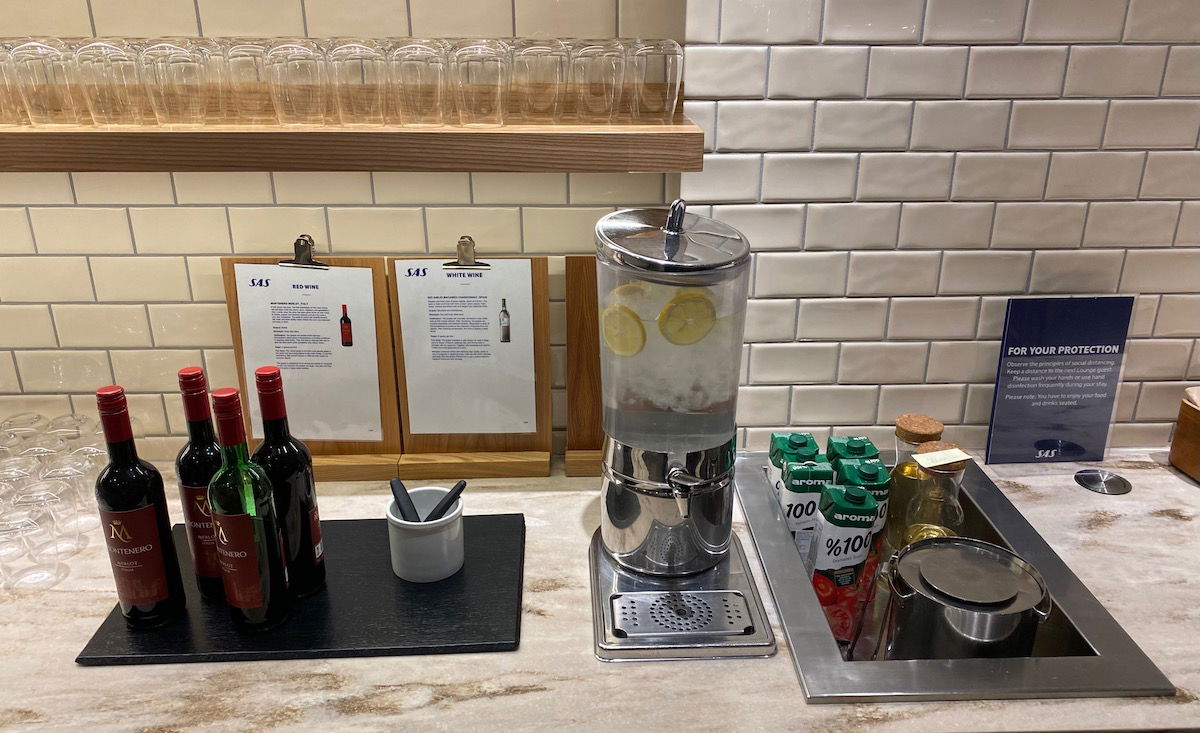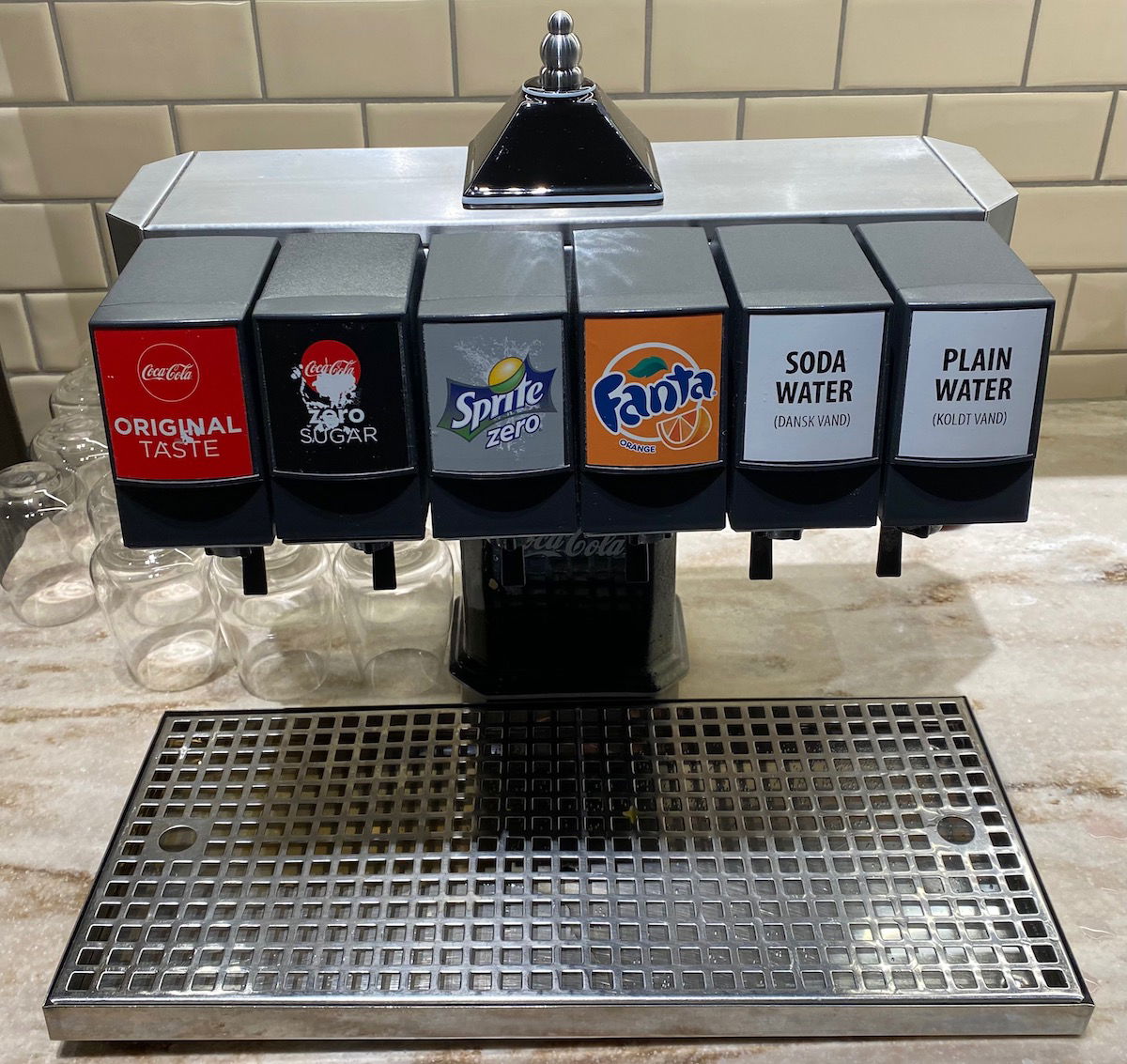 I found it hilarious that there was an area with bottles of tomato juice and then small pitchers containing what looked like apple juice. It was actually wine – not sure if a post-it on one of the pitchers is really enough of a warning?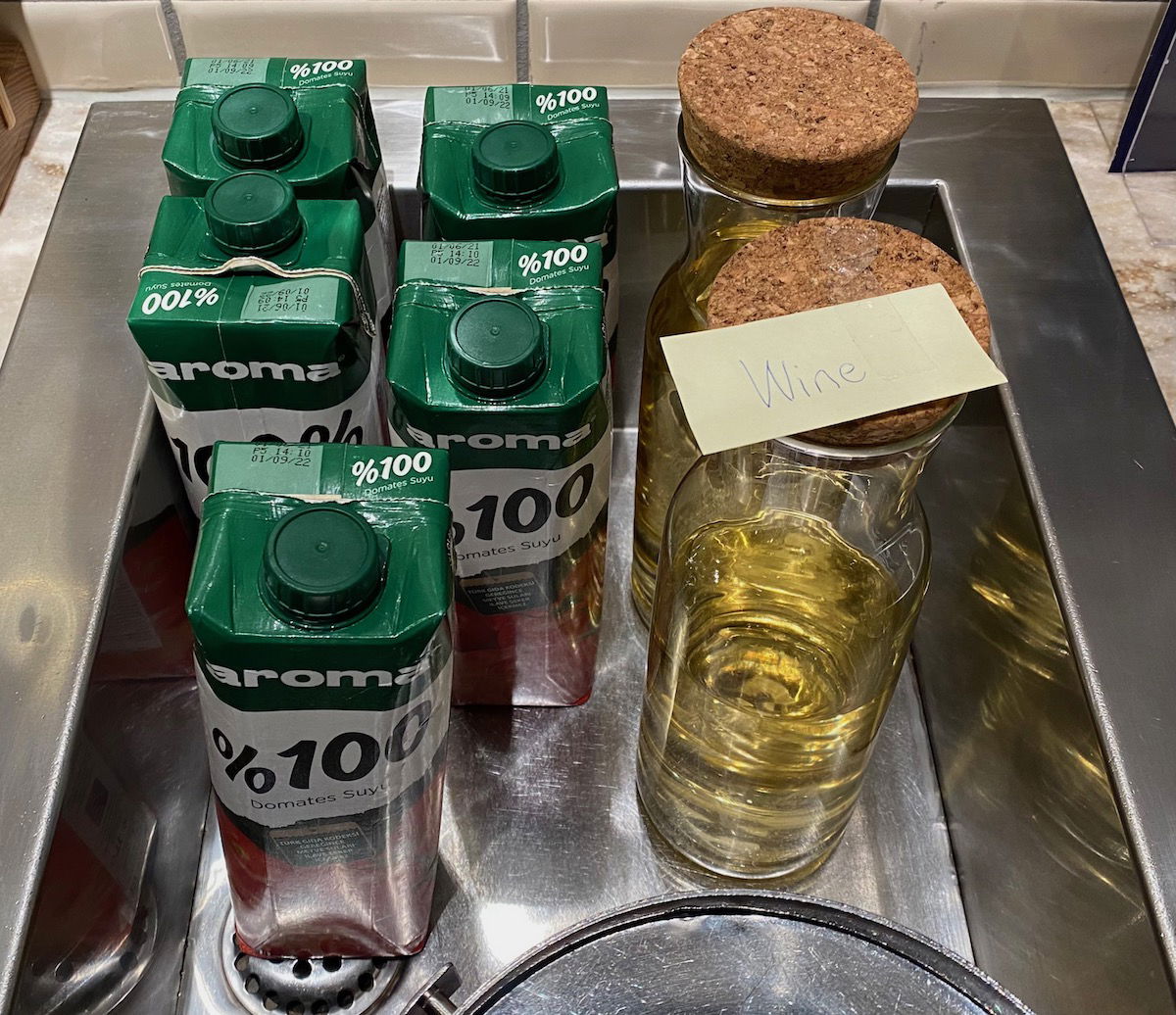 The lounge also had a coffee counter where it looked like you could usually get coffee made by a barista, but go figure that was also closed.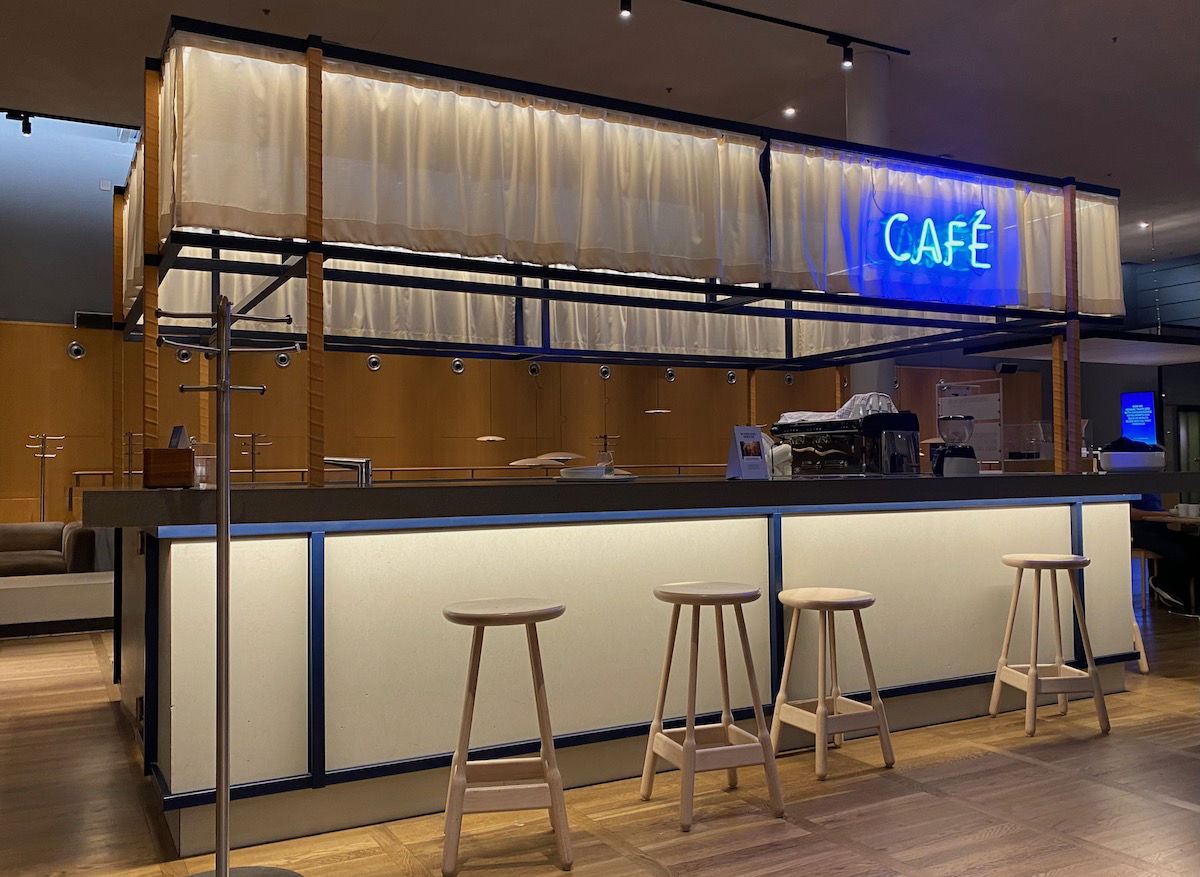 At the end of the line
I'm sure the SAS Lounge Copenhagen is quite nice when fully operational, but unfortunately that's not the case at the moment. Only a small part of the lounge is open and it was busy. Add to that the limited food selection and the cafe being closed, and I can't say it was a great experience.
After visiting the SAS lounge, we headed to the nearby Priority Pass location which was so much better. Stay tuned, as I will go over that in the next episode.
If you have visited SAS Lounge Copenhagen, what was your experience?